Amateur Mogul Competition Comes to Southern New England this Sunday, March 16
NEW HARTFORD, Connecticut — Due in part to the urging of a group of dedicated local mogul enthusiasts, New Hartford Connecticut's Ski Sundown will be hosting the "BUMP or BUST Mogul Competition" this Sunday, March 16. This amateur mogul competition is open to all skiers and snowboarders with the top 16 competitors in each category competing on a dual format mogul course.
Members of the AlpineZone.com forum community first expressed their interest in a mogul competition to the ski area last October. Sundown's Mountain Operations Manager, Chris Sullivan ran with the idea.
"AlpineZone.com members have been the driving force for mogul skiing and the return of bump competitions at Ski Sundown," said Sullivan.
For the past several seasons, Ski Sundown has shown a commitment to offering bumps for more advanced skiers and snowboarders by consistently forming moguls on select trails as soon as conditions allow. The AlpineZone.com forum community organizes a casual weekly meet-up at Sundown, and often times the group skis the moguls exclusively. Several AlpineZone.com members are also looking forward to participating in the event.
"As a local skier who is very much a mogul hound, the bump contest is a very exciting event for me. I don't have the opportunity to head north as much as I used to so Sundown's recent commitment to mogul skiers is refreshing and greatly appreciated," said Pat Ford, an active AlpineZone.com member and mogul enthusiast. "They have given us a quality bump run all year even with the challenging weather that is common during Connecticut winters," added Ford.
Being touted as "the competition where the strongest quads finish first," the event will be held primarily on the Temptor ski trail where moguls have been formed for much of the trail's length. Two jumps will also be built on the course. Participants will be evaluated on turn/line, air, and speed and will be judged by Dave Lemelin, an experienced competition judge who has been involved with similar events at Killington, Mount Snow and Okemo resorts in Vermont.
Registration is from 11 – 12:30 pm on Sunday March 16 with qualifying rounds beginning at 1 pm. The top 16 competitors are paired to compete on a dual mogul course with a sudden death single elimination format. The categories will include:
Skiers – Male, 18 & under
Skiers – Male, 19 & older
Skiers – Female, Open
Snowboarders – Open
There will be a $5 entry fee and a release form is required which must be signed by a parent or legal guardian if the participant is under 18 years of age. Awards will be presented to the 1st, 2nd, 3rd and 4th place finishers in each category.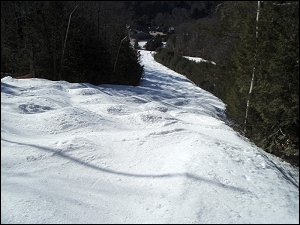 Ski Sundown's Temptor Ski Trail
(Photo: Brian Vibert)
Contact Chris Sullivan at [email]chris@skisundown.com[/email] or visit www.skisundown.com for additional information. The AlpineZone.com forum community can be found at forums.alpinezone.com.