Attitash Hosts NCAA Contenders, UNH Alpine Ski Teak, Pre-season Training Camp
BARTLETT, New Hampshire ??" The UNH (University of New Hampshire) Wildcats Alpine Ski Team, spent their holiday break training for their upcoming 2006 season at Attitash in Bartlett, NH. The season kicks off on January 20-21 at the Colby College Carnival.
Attitash offered early lift times and a variety of race terrain such as Moat, Illusion, Grandstand and Spillway for the Wildcats training. Coming off of a 12th place finish in the NCAA National Championship last year the Wildcats are aiming to finish in the top 10 nationally in 2006.
"We have had a great week at Attitash. We were able to utilize multiple trails with a variety of terrain to give us some real quality training," said head coach, Kurt Simard. "We are optimistic about our upcoming season, we hope to open in the top 3 for schools in the East and finish the season in the top 10 nationally at the NCAA Championship."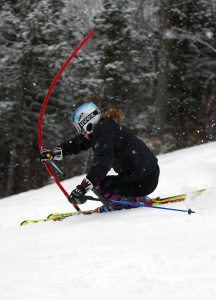 Sydney Mikkelson (sr. Captain)
Two time all-American
(Photo: Attitash)
Joining the Wildcats this year are freshman, Leanne Smith and Mike Cremeno, both NH natives who were ranked within the top 40 of 100 junior ski racers in the U.S. last year.
Leanne Smith, freshman team member, and Conway, NH native, returned to Attitash for training with the Wildcats. "I have raced here at Attitash since I was a little kid so it is comfortable for me. Being a freshman on such a strong team is very challenging but great, we really push each other and the team has a great attitude."
"We are really looking forward to our season, we have had a lot of early on snow training and the snow and terrain was great here this week so we are ready to go." said freshman Mike Cremeno of Pembroke, NH.
Attitash is the Wildcats home mountain and is the chosen venue for the NCAA Skiing Championship in 2007 hosted by UNH.