Attitash Opens up the Valley with Comprehensive Ski and Stay Package
BARTLETT, New Hampshire ??" Gone are the days when a Ski and Stay Package meant you had to spend your time at one, two or even half a dozen resorts. The days when you have 13 options within a 30-minute drive have arrived. In a move to offer the ultimate in skiing and riding options through one Ski and Stay Package, the Attitash Grand Summit Hotel is offering the Super 7 Midweek Ski and Stay Package providing access to every alpine and Nordic resort in the Mount Washington Valley.
"Folks can ski right out the door here at Attitash or take their pick," said John Lowell, general manager of the Attitash Grand Summit Hotel. "The Mount Washington Valley is unlike any other ski town in the East. Skiers and riders have always had diverse dining and tax-free shopping at their disposal, now with the Super 7 they can mix up their mountains too."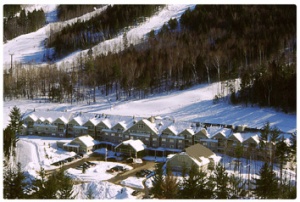 Attitash Grand Summit Hotel
(Photo: Attitash)
Participating alpine ski areas include Attitash, Black Mountain, Bretton Woods, Cranmore, King Pine, Shawnee Peak, and Wildcat. Nordic options include Bear Notch, Bretton Woods, Great Glen, Jackson Ski Touring, King Pine, and MWV Ski Touring. Each Nordic option includes a rental and group lesson. Guests who choose to ski at Attitash from the Grand Summit are offered an additional perk, a free Perfect Turn group clinic for each day on the slopes.
The Super 7 Midweek Package starts at $89 per person per night and is valid Jan. 1, 2006 through March 16, 2006 except for Feb. 19 through Feb. 24. All three or more night stays will receive a $25 Mobil gas card. The list of options grows to 14 resorts when guests exchange their Attitash ticket for access to Sunday River, a fellow American Skiing Company Resort. Sunday River is located one hour northeast of Attitash. Guests who wish to reserve a Super 7 Midweek package can do so by calling (800) 223-SNOW or visit www.attitash.com.
The Mount Washington Valley of New Hampshire not only features a wealth of skiing and riding options that is unrivaled in the east, but also 200+ tax free shops and outlets along with diverse dining options. The Attitash Grand Summit Hotel is located slopeside at Bear Peak and is the Valley's only full service slopeside hotel. Amenities include an outdoor heated pool, fitness center, massage therapy, children's nursery, retail shop, valet parking, and dining in Crawford's Pub and Grill.