Attitash Winterfest 2005 Offers Family Fun for February Holiday Week
BARTLETT, New Hampshire ??" Coinciding with the week many families are able to head to the mountains for some winter fun, Attitash is hosting an eight-day on-snow party.
Attitash Winterfest 2005 gets underway at on Saturday, Feb. 19 with the 2nd Annual Budweiser Rail Jam where New England's finest amateur riders compete for cash and prizes in front of the Attitash Base Lodge. A special apr??s-ski party in Ptarmigan's Pub coincides with the opening event with help from the WCYY and WBLM radio stations.
"Sure there's racing, music and things like that but there's also some oddities," said Heidi Loecher-Duffy, events coordinator for Attitash. "Human Foosball for example is not an event that you see everyday, but everyone seems to enjoy it. The action is great for spectators with the rail jam and mogul competition on Grandstand."
The majority of Winterfest events require no pre-registration allowing guests to walk up and be racing their friends, dodging a limbo stick, or acting as a human foosball player right on the spot.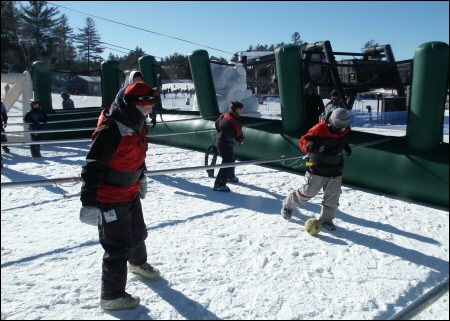 Human Foosball
(Photo: Courtesy of Attitash)
On Saturday, Feb. 26 is a USSA sanctioned mogul competition on the Grandstand trail. Up to 80 top athletes from around the region bash bumps and catch large air in the battle to be crowned champion.
That afternoon in Ptarmigan's Pub will be the sounds of Draw The Line as part of the Budweiser Concert Series. Draw the Line is an Aerosmith cover band that also looks the part to the point that Joe Perry and Steven Tyler have body doubles.
Wrapping up Attitash Winterfest 2005 is the Spread Eagle World Championships on Sunday, Feb. 27. The event is a celebration of the hotdog lifestyle where neon colors, straight skis and one-piece suits will be in abundance.
While space is limited, the Grand Summit Resort Hotel is offering ski and stay packages for the holiday week. For more information or reservations guests can visit www.attitash.com or call (800) 223-SNOW.
A complete listing of Winterfest 2005 events is available at www.attitash.com. This edition of Winterfest is occurring with the 40 Days and 40 Nights of Attitash, which culminate on the weekend of March 5-6 with the highflying stunts and fireworks of the All Star Aerial Show.