Back-to-Back Storms Bury Vermont's Killington Resort with More than 3 Feet of Snow
KILLINGTON, Vermont — Back-to-back winter storms have blanketed Vermont's Killington Resort, the largest ski and snowboard resort in the Northeast, with more than three feet of new snow just in time for the Holiday Season!
"All the new snow couldn't have come at a better time as skiers are gearing up for a holiday break to hit the slopes," said Patricia Ryan, sales, marketing and reservation director for Killington Resort. "The phone lines at Killington Central Reservations have been ringing off the hook since the snow starting falling on Friday."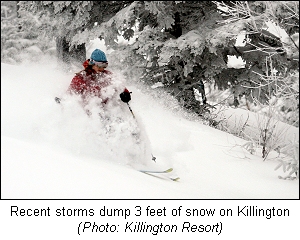 With 17 inches of new snow in the past 24 hours and more than four feet in the past week, Killington will be nearly 100 percent open for the Holidays. Twenty four lifts, including the new Skye Peak Express, will provide access to more than 70 miles of terrain, including the New Burton Stash all-natural terrain park.
To date, Killington has received 133 inches of snow with an average mid-mountain base depth of 36-48 inches. Killington averages 250 inches annually. Killington Resort averages 51 inches of snowfall for the month of December and has received 77 inches this month as of Dec. 22.
About Killington Resort
The largest ski and snowboard resort in eastern North America, Killington debuts $8.4 million in improvements for its 50th Birthday Season, including the new Skye Peak Express and "The Stash." Killington Resort features diverse terrain, an expansive lift network, the most extensive snowmaking system in the world and numerous off-mountain activities, including apr??s, dining, shopping and lodging options. www.Killington.com