Camelback Mountain Resort Continues with Philanthropic Giving
Breast Cancer Awareness Day a Success
TANNERSVILLE, PA -Camelback Mountain Resort understands the importance of giving back and is continuing with a successful winter of philanthropic deeds. This Saturday, February 25th, Camelback has a group of brave "polar bears" that will plunge into the Atlantic Ocean at Seaside Heights to raise money for the Special Olympics of New Jersey (SONJ). Check-in for the event starts at 9:00am at the Aztec Ocean Resort. They plunge takes place at 1:00pm while the festivities continue through the day.
The Polar Bear Plunge for SONJ is a fundraising event in which participants pledge $100 or more to take a brazen romp into the chilly waters of the Atlantic Ocean in the middle of Winter. Crazy- We think so, and we know lots of folks who agree … and who still take the plunge year after year.
"This is a great cause and a fun event," said Brian Czarnecki, Vice-President, Sales and Marketing at Camelback Mountain Resort. Czarnecki continued, "We have a group of season passholders that have been doing the plunge the last ten years and have raised tens of thousands of dollars."
To donate and learn more about the Camelback Polar Plunge Team go to www.goplunge.com . The Polar Bear Plunge is the largest fund raising effort benefiting the SONJ in the state. SONJ provides year-round training and competition in 24 Olympic-type sports to more than 18,000 children and adults with intellectual disabilities. The Plunge has helped to fund the creation of new programs, as well as expand existing programs.
On February 12th, Camelback hosted a Boarding for Breast Cancer event and raised over $6300 which will be donated to breast cancer research and education. Roughly, $2900 of the donations went to Pocono Health System to help our local community. A picture of the check presentation to the Dale and Frances Cancer Center, Pocono Health Systems is below.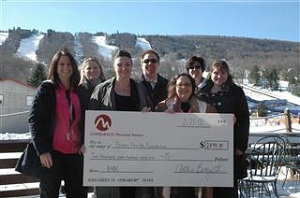 Pictured from left to right: Kim Hettel, Breast Health Nurse Navigator, Dale and Frances Hughes Cancer Center, Megan McHugh, Director of Public Relations, Camelback Mountain Resort, Stacy Goetz,Executive Director, Oncology – Dale and Frances Hughes Cancer Center, Ricky Durst, Kathy Kuck, President & CEO – Dale and Frances Hughes Cancer Center, Marynell Strunk, Medical Writer – Dale and Frances Hughes Cancer Center and Danielle Jordan, Director, Marketing and Development.
To continue in the philanthropic spirit, Camelback has just announced the application for the Fourth Annual "Big Give" 2012. The Big Give is Camelback's largest charity event held at Camelbeach Mountain Waterpark each summer. Any non-profit or not-for-profit organization may apply at www.camelbeach.com/the-big-give.aspx by answering a short questionnaire. Two organizations are selected and have the opportunity to raise tens of thousands of dollars by selling discounted tickets and rubber ducks for an exclusive park event.
SnowEast Magazine Readers' Survey voted Camelback Mountain Resort the favorite resort in Pennsylvania. There are 34 trails, ranging from beginners to double black diamonds with 100% of the trails open for night skiing. Camelback is continuing on the cutting edge by adding a 50′ x 50′ airbag that tops out at 12 feet tall….just like stunt persons use in Hollywood films. Guests of all abilities can ski and board downhill, hit a jump and try any trick seen at the X Games and land safely and softly!
Always true to its name and mission, Camelback Mountain Resort, ensures action, adventure and excitement 365 days a year.