Cranmore Launches Snowmaking Operations for Winter 2006-2007
NORTH CONWAY, New Hampshire — The year's coldest temperatures since April brought out the snow guns in force at Cranmore Mountain Resort in North Conway, NH. Always a welcome sight for snow fans, skiers and snowboarders, the snow guns were still blowing as the sun rose over the frost-covered slopes of North Conway's favorite ski resort this morning.
"In anticipation of our December 9th opening date, we're setting up and testing all of our snowmaking equipment," stated Jim Mersereau, Cranmore's Director of Operations. "By the looks of it, we're good to go and should be in great shape for opening day."
Additionally, Cranmore Mountain has purchased an arsenal of new energy-efficient tower guns that will enable the resort to open its Competition Slope earlier than usual. "These new guns will offer our famous race training program early season training hill space," stated Cranmore GM Ben Wilcox.
The 2006-2007 winter season will feature a variety of improvements at Cranmore, now entering its 69th year of operation. Their Arctic Blast Tubing Park will have a spacious warming hut at the base of its slope. Its metal framing can already be seen rising at its base and will be in full operation in time for the park's slated opening date of Fri., Nov. 24, 2006.
Also planned for Thanksgiving weekend is an informal rail session near the base of the South Slope, hosted by Cranmore's Darkside Terrain Park crew. A small selection of rails will be set up and the Lucky Loop rope tow will be operating. Lift ticket purchasers and season passholders alike can access the lift and a special discounted ticket rate will be offered.
All operations are weather dependent. Cranmore's website will feature late breaking news on dates and hours of operation: www.cranmore.com.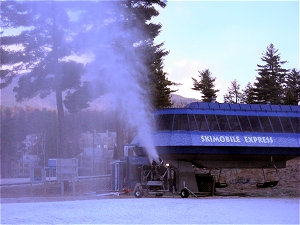 Snow guns were operating at Cranmore
Fri. Nov. 3, 2006
For more information, call 1-800-SUN-N-SKI.