Eastern Mountain Sports Supports National Trails Day(R) Grassroots Events
PETERBOROUGH, New Hampshire ??" Eastern Mountain Sports announced today that they are supporting the American Hiking Society by sponsoring numerous National Trails Day events on Saturday, June 4. Focusing on grassroots support, 36 retail locations have committed to help maintain, clean and improve local trail systems.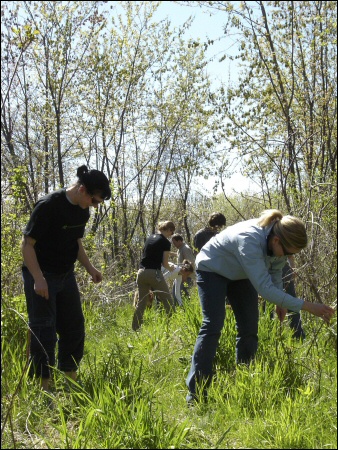 Volunteers and Eastern Mountain Sports staff working on a trail
alongside Lake Champlain in Burlington, Vermont.
(Photo: Courtesy of Eastern Mountain Sports)
"The American Hiking Society is proud to partner with Eastern Mountain Sports as we work together to celebrate our national and local trail systems," noted Gregory Miller, President of American Hiking Society. "As the active, outdoor lifestyle is a growing trend, and more people then ever are experiencing the physical benefits of trail-related activities, we're promoting an ongoing environmental commitment to ensure the trails remain a safe and user-friendly resource. We strongly believe that a positive experience on the trail helps brighten the human spirit."
In conjunction with this year's theme, "Take the Path to a Healthier You," Eastern Mountain Sports will utilize their retail personnel and develop several grassroots trail activities to promote the celebration of a healthy lifestyle which can be achieved on the trail.
According to the Outdoor Industry Association's 2004 U.S. Outdoor Recreation Participation Study, two-thirds of Americans 16 and older participated in at least one adventure sport in 2003. As most adventure sports require accessible local trail systems, including hiking, climbing, biking, running, paddling and camping, this is a natural way local Eastern Mountain Sports retail locations can contribute to their community.
"A common thread woven throughout Eastern Mountain Sports is the everlasting appreciation of the natural environment," said Will Manzer, Eastern Mountain Sports CEO and President. "Whether partnering with national organizations such as the American Hiking Society or sustaining localized grassroots trail work through our retail stores, National Trails Day is a perfect opportunity to make a conscious effort and improve the trails and parks."
As a longstanding supporter and sponsor of National Trails Day, Eastern Mountain Sports is proud to notch their 12th year of support. During the remainder of the year, Eastern Mountain Sports promotes awareness of the outdoors through multiple company-wide initiatives; including the Raise the Roof Tour, Stay Put – Stay Dry, Climbing and Kayaking Schools, Team Eastern Mountain Sports and numerous retail grassroots outdoor development programs.
For more information on National Trails Day, please visit www.americanhiking.org and www.ems.com.