Four Feet of Early Snow at Wildcat Mountain Greeted by Happy Skiers
PINKHAM NOTCH, New Hampshire ??" Tuesday's storm delivered copious amounts of snow to Wildcat Mountain, located right next to Mt. Washington which has received record-breaking snowfall this month. With sixteen inches at the base of the mountain, the snow mounted as skiers climbed with skins on their skis to reap the reward of first tracks on at least three feet of new snow in the higher elevations. Added to more than a foot of snow received over the previous weekend, Wildcat's trails are now covered under at least four feet of snow since Sunday.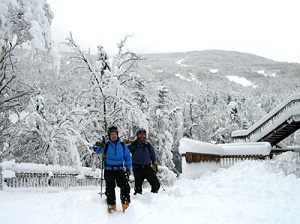 Dave Chandler and Jeremiah Beach enjoyed first tracks
after Tuesday's Nor'easter dumped three feet of new snow
on Wildcat Mountain
(Photo: Wildcat)
In places near the summit, mountain employees and skiers reported eight to ten-foot snow drifts. "Conditions are about as good as they get," notes expert backcountry skier Jeremiah Beach, who also heads up Wildcat's Rental, Tuning & Repair Shop.
Though Wildcat Mountain had been scheduled to open on Friday, November 25th, the day after Thanksgiving, when asked about the possibility of an early opening, Tom Caughey, Wildcat's General Manager, gave the thumbs up to opening for the coming weekend, "if at all possible." Notes Caughey, "We're certainly going to try! Our power and telephone service should be restored with the next day, and the weather forecast looks just about perfect for the weekend. Wildcat really is all about the skiing — and that's what we have right now. It's just about a month earlier than expected, and that poses certain challenges. So an early opening will be limited, depending on safety and staffing considerations. But folks are having an absolute blast out there, so we want to keep them coming — and continue to pack the snow base. We're looking forward to a great season!"
The best place to find out what is happening at Wildcat is the Snow Report page at www.skiwildcat.com.