Hunter Mountain Owner & Founder Orville Slutzky Welcomes Opening Day
HUNTER, New York — With a base up to 60″ and thirteen trails open, Hunter Mountain welcomed thousands of people on opening weekend, November 22 and 23, 2008. With steady snowmaking for the past week and cold weather to match, Hunter's 50th season of operation is off to a perfect start, not only at Hunter, but throughout the northeast.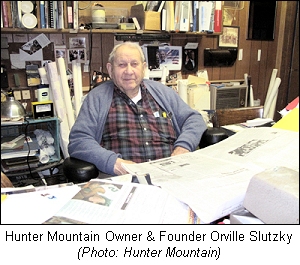 No one was present on Hunter's opening day earlier than 91-year old Orville Slutzky, who can be found in the base lodge daily starting at 5:30am. Orville rarely misses a day of work. Orville's presence here has been steady since Hunter's first opening, nearly 50 years ago. A wealth of information within the ski industry, Orville and his late brother Izzy built the mountain from the bottom up.
The last few years have brought great things to Hunter's remaining owner. Last year, Orville was awarded the NSAA Lifetime Achievement Award for his tremendous contributions to the ski industry as a whole. This year, Hunter Mountain will be celebrating its 50th Anniversary-the resort has been owned and operated by the same family for the past 50 years-and Orville has been present every step of the way.
From the very beginning, the Slutzkys were told a mountain could never be built out of where Hunter Mountain stands today. Fifty years later, Orville is here to celebrate the 50th anniversary of his world-renowned resort.