Hunter Mountain to host a Bar Mitzvah "Mitzvah" project SKI-A-THON
HUNTER, New York — Hunter freestyle team member Shea Belsky hopes to ski up to 50 runs in support of the UJA Sderot Fund for children in a war-ravaged area of Israel. On April 11, 2009 Shea will be skiing from 8:30am to 5pm with no breaks — top to bottom — all day. Shea's mother and father are long-time Hunter skiers, passholders and condominium owners.
This marathon is a personal charity program, which is part of Shea's becoming a Bar Mitzvah. Shea will be having his Bar Mitzvah in December 2009 and is doing something special as part of his religious ceremony.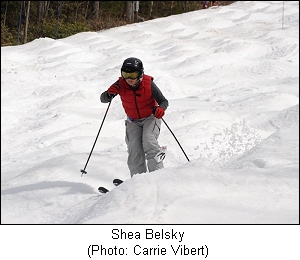 "The idea of raising money for these children came from a visit from the Israeli Scouts. Shea listened to stories and watched movies about children who were forced into shelters," says Shea's father, Alan Belsky. "Shea has received generous support from friends and family and hopes to collect more. He will discuss issues relevant to his cause on his chairlift rides with any interested parties."
Shea hopes to raise awareness about the shattered lives of the children in this community by creating a brochure to show interested skiers/boarders who want to ride the chair lift with him. "Hunter is proud to be able to support a family who consistently supports us," says Brian Czarnecki, Director of Marketing & Sales. "We've been approached with personal charity efforts before and are glad we are able to accommodate Shea."
The UJA Foundation is a not for profit charity that cares for those in need, rescues those in harm's way, and renews and strengthens the Jewish people in New York, in Israel, and around the world. More information about Shea's Ski-a-thon is available on his Facebook page.