Hunter Mountain to Open Saturday, November 13
HUNTER, NY ??" Opening a week earlier than originally anticipated, Hunter Mountain will open it's slopes for the first time this season on Saturday and Sunday, November 13th and 14th from 8:30am to 4:00pm, for some much-welcomed early season action.
On course with Mother Nature's recent and ongoing antics, Hunter Mountain officially began making the white stuff on Monday morning, November 8th. The pumps and compressors were fired up and the valves were opened to start the snowmaking season. Two very cold nights following Monday made round-the-clock operation through Tuesday night possible. Snow production will commence on Friday, November 12 to ensure plenty of top to bottom coverage.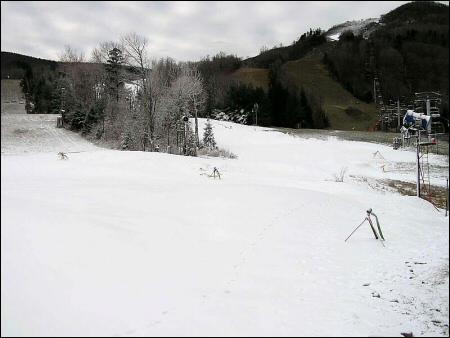 Hunter Mountain Snowmkaing Progress – November 10, 2004
(Photo: Courtesy of Hunter Mountain)
Huge improvements to Pumphouse #2, which services the upper half of the Mountain, will help enhance Hunter's already top-notch snowmaking. These improvements will produce more snow on the upper portion of Hunter and the famed Hunter West, ultimately resulting in a faster recovery rate of production and better snow. Pumphouse #2 was revamped with new lines, new pumps and a fully automated snowmaking system.
A sample of trails to be open this weekend includes "Hellgate", "Broadway", "Kennedy-Drive" and "Fifth Avenue", servicing intermediate and advanced skiers and riders. Visitors will pay only $30 for lift tickets, and for this weekend only, Hunter will honor the midweek season pass (ValuePass) as well. For more information on snow conditions and Mountaintop weather, dial 800-HunterMtn or visit www.Huntermtn.com.