Hunter Mountain's Rip Van Winkle Statue Completed: Summit Reception on October 12
HUNTER, New York — For fourteen years, a life-sized sculpture of local legend Rip Van Winkle has sat atop the summit of Hunter Mountain, slowly materializing from local bluestone: tendrils of hair and brow, facial wrinkles, and the expression of complete and utter surprise are some of the features carved year after year, to tell the story of the legendary figure's awakening, 20 years after falling asleep under a tree in the Catskills.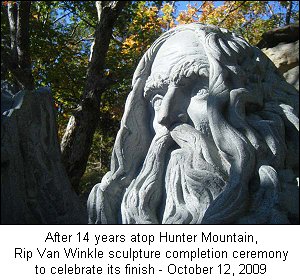 The sculpture is the result of a artistic partnership between local sculptor Kevin VanHentenryck and David Slutzky, a member of the family that owns and operates Hunter Mountain. The statue can be found via a walking path, which snakes along the east side of the mountain's summit. Long a symbol of the Catskills and of the artistic offerings of the region, the statue has been viewed by thousands of summer visitors over the years.
A completion ceremony will take place atop the summit on October 12, 2009. Visit HunterMtn.com for more information.