Killington Resort Announces $8.4 Million In Improvements; 2008-09 Season Pass Prices
KILLINGTON, Vermont — Vermont's Killington Resort, the largest ski and snowboard resort in the East, announces 2008-09 season pass prices and $8.4 million in on-mountain improvements to kick off its 50th birthday season.
"We are very excited to be announcing this capital improvement plan," said Chris Nyberg, president and general manager of Killington Resort and PicoMountain. "Last summer we invested $3.5 million into improvements immediately after acquiring the resorts. Those improvements coupled with our staff's ability to deliver a high quality, consistent snow product and an improved overall resort experience has paid dividends. Now we are in position to increase the level of investment to improve the resorts and the guest experience even further. This is a great day for Killington Resort and PicoMountain."
Leading the list of improvements is a new high-speed detachable quad to replace the existing fixed-grip Skye Peak Quad operating out of the Bear Mountain base area. The new Skye Peak Express will cut the ride time from 13 minutes to just under 5 minutes. The new lift will improve access to intermediate cruising terrain on Skye Peak, Bear Mountain's premiere terrain parks and some of the best free skiing/riding trails and glades in the East.
"This new lift is really going to improve the skier/rider flow off SkyePeak and into Bear Mountain," said Jeff Temple, Killington and PicoMountain director of mountain operations. "We'll also be making additional on-mountain trail improvements focusing on providing uninterrupted top-to-bottom skiing and riding for our guests, while continuing to invest in snowmaking infrastructure to increase snow production capacity and improve energy efficiency."
The new Skye Peak Express is the first lift installed at Killington Resort in more than 10 years and brings its total of high speed lifts to nine, nearly twice the number of high speed lifts found at any other resort in the East. In addition to greatly reduced ride time, the new lift will be less susceptible to wind holds and delays in operation due to the slower loading and unloading speed offered by a detachable lift.
For skiers and riders to enjoy the new on-mountain improvements, Killington announces season pass products and prices for the 2008-09 season. The very popular summer payment plan is also back. Simply purchase with a credit card by phone by June 3, pay 50 percent of the total season pass purchase at the time of your order, and the remaining 50 percent will be automatically charged to your credit card on August 26.
"A Killington/Pico or Pico only season pass provides outstanding value for guests who ski or ride here frequently," said Dave Rathbun, Killington and PicoMountain director of sales and marketing. "Improvements to the pass program this year include fewer restricted days (three fewer for Blackout Passes, two fewer for Midweek Passes) and now every pass type qualifies for the summer payment plan allowing guests to spread their payments over the summer months."
Here are Killington Resort and PicoMountain season pass prices and products for 2008-09: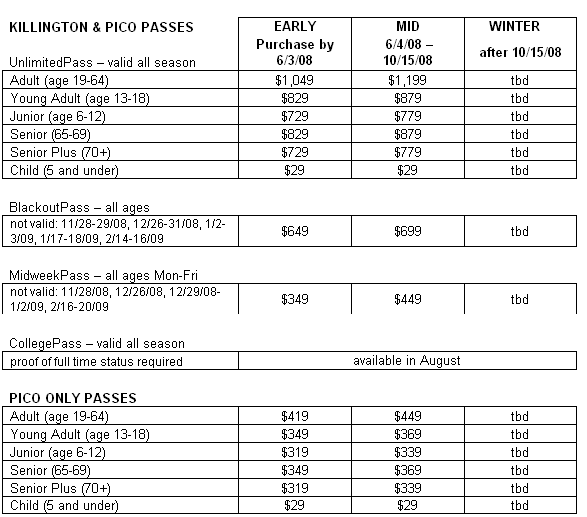 All passes are subject to 7% VermontState and local tax. Some restrictions apply. For complete pass details and answers to frequently asked questions visit www.killington.com or call 800-887-3257.
A Killington/Pico season pass provides access to more than 1,200 acres of the most diverse skiing and riding terrain in New England served by 32 lifts. More than 70 percent of the terrain is covered by the most extensive snowmaking system in the world and groomed by a fleet of state-of-the-art snow cats.
To purchase Killington/Pico season passes online visit www.killington.com. To purchase season passes using the summer payment plan please call 800-887-3257.
About Killington Resort – The largest ski and snowboard resort in eastern North America, Killington features diverse terrain, an expansive lift network, the most extensive snowmaking system in the world and numerous off-mountain activities, including apr??s, dining, shopping and lodging options. www.killington.com.