Lars Johnson Represents Whiteface at Next X Snow Search in Keystone, Colorado
WILMINGTON, New York ??" Lars Johnson, of Lake Placid, will represent Whiteface Mountain at the 2005 Sports Illustrated for Kids Next X Snow Search at Keystone, Colorado, February 10-14, the New York Olympic Regional Development Authority (ORDA) announced Wednesday.
Over 20 competitors (between 9-13 years old) set out on the mountain Monday to ski and ride with judges. The field was judged on ability and style, as well as other criteria. The afternoon session included a slopestyle component, with the best score out of two runs added to the morning session scores to determine a winner.
Johnson, 13, had a stellar performance on Monday and will travel with one chaperone to compete at the Keystone Resort in Colorado next month. Johnson will represent Whiteface, which is covering the cost of lodging, transportation and lift tickets. Rossignol is donating a brand new pair of Scratch skis for Johnson to use for the rest of the season. The Next X Snow Search finals are set to air March 5 on NBC and if Johnson performs at the top of his game he could possibly appear in the finals on national television.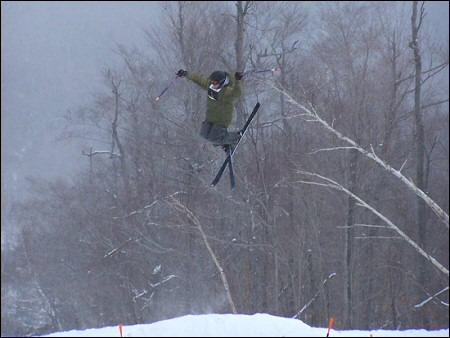 Lars Johnson goes big at Whiteface
(Photo: Courtesy of ORDA)
"The Next X Snow Search competition, which ran in conjunction with our Up & Comers was a huge success," said Mike Kirchner, Whiteface Park and Pipe Director. "It's great to see a local athlete stepping up a level to represent us in a national competition."
The next Up & Comers (14 and under) event is slated for Saturday, Feb. 5. The Cunningham's Railmaster is set for Saturday, Feb. 12, and is open to competitors of all ages. The top ten snowboarders from the Cunningham's Railmaster will have the chance to participate in a Rail Jam event in Lake Placid on Saturday, March 5. The Rail Jam is being held in conjunction with the State Farm U.S. Snowboard Cup, slated for March 4-6.
2005 Next X Snow Search Qualifier Top-10 Results
Lars Johnson, Lake Placid, N.Y.
Mike Phelabaum, Saranac Lake, N.Y.
Jake Doan, Lake Placid, N.Y.
Andris Blumberg, Lake Placid, N.Y.
Tyler Jermano, Bloomingdale, N.Y.
Zachary Fitzgerald, Wilmington, N.Y.
Hank Evatt, Sabael, N.Y.
Sam Earl, Lake Placid, N.Y.
Matt Nardiello, Lake Placid, N.Y.
John "Joe" Wilkins, Lake Placid, N.Y.
For more information about the Sports Illustrated for Kids Next X Snow Search, please visit www.nextsnow.com.