Lift Towers Installed for Gore Mountain's New Burnt Ridge Quad
NORTH CREEK – All 20 towers are installed for this season's opening of Gore Mountain's new Burnt Ridge Quad, a high-speed lift servicing the resort's fourth developed peak.
The Burnt Ridge Mountain expansion will introduce skiers and riders to six new trails during the 08/09 season. Burnt Ridge services a vertical of 1432′, and increases Gore's total vertical drop to 2300′, the 8th greatest in the eastern United States. The expansion also means another 5 miles of skiable terrain over 55 more acres, and the longest continuous run has increased from 2.9 to 3.7 miles.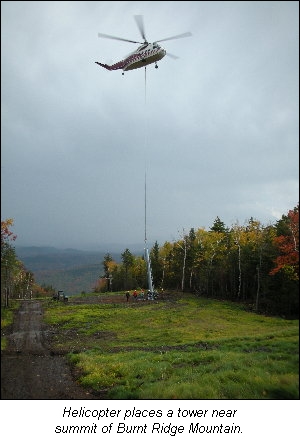 The six new trails are a mix of intermediate and expert terrain:
1) Echo – A 1.15 mile trail, offering beautiful cliff views and interesting banked turns
2) Sagamore – A 1.23 mile trail, offering black-diamond skiers and riders an experience similar to Topridge, but it is a longer trail with new scenery and more vertical.
3) Cedars- A gentle intermediate cruiser providing access from the Gore Mountain base area to the base of the Burnt Ridge Quad.
4) Hedges- An access trail from the top of the Burnt Ridge Quad to both the mountain's East Side, via the Twister trail, and the North Side, via the Tahawus Glades.
5) Cirque Glades- 1-mile glade featuring a cirque, a unique ampitheatre-like rock formation
6) Sagamore Glades- Gore's 15th glade on the map.
Gore Mountain will also open its Pipeline Trail to the North Creek Ski Bowl more frequently. From the base of the North Quad, guests will more often be able to access the Ski Bowl, one of the first commercial ski areas in the country. Gore operates this stand-alone winter fun park for day and twilight skiing that includes a newly installed triple chair, a half-pipe, and terrain park, as well as lift-service tubing.
Other improvements at Gore Mountain for 2008/2009 include continued renovations to the Base Area both inside and out that will improve the guest experience. These include an increased capacity of the shuttle system, enlarged sundeck, expanded and new bathrooms, more guest seating, and newly configured entryways. Also look for a beginner terrain park on the J-bar area, a new covered bridge over the Snow Train conveyor lift, a new NYSEF race finish building, and a variety of fresh Snow Sports programs for all ages.
For information about all of Gore Mountain's new improvements, please respond to this e-mail or call 518-251-2411.