Mad River Glen Opens Tomorrow
WAITSFIELD, VT ??" With 12 plus inches of new snow in the past 48 hours and more on the way in the coming days, the start of the 2005 Mad River Glen ski season is almost here. The mountain plans to open for the season on Thursday and the mountain operations crew is hard at work getting everything ready. The word from the mountain is that there is unusually consistent coverage on the entire mountain with more than 2.5 feet of base on the higher elevations.
"The wet snow from last week's snowfalls was wet and was exactly the kind of base-building snow skiers like to see," said Eric Friedman, Mad River Glen's Director of Marketing.
With dropping temperatures and drier snow Friedman indicates the base has drained well and the groomers were able to get up onto the hill to "pin down the base." Friedman also indicates that most of the water bars and culverts are well covered and the skiing should be excellent.
"There is nothing like the first few runs of the year on trails like Paradise and Chute when they are still flat. This is really going to be a treat so come on out and enjoy it," remarked Friedman.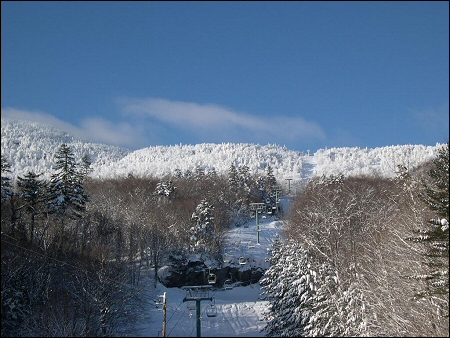 Mad River Glen in Waitsfield, Vermont – 12/15/2004
(Photo: Courtesy of Mad River Glen)
Mad River Glen will open on Thursday with the Single Chair only with all trails expected to be open off the summit including Fall LIne, Paradise, Catamount and Chute. On Friday, the Sunnyside Double and the Single will be open with 100% of the main mountain trails open. This weekend the area expects to add the Practice Slope lift to the mix.
For more information, visit www.madriverglen.com.