Maine, New Hampshire Youths Headed to the X Games
NEWRY, ME ??" Two 11-year-old snowboarders took top honors at the The Sports Illustrated for Kids Next Snow Search hosted by Sunday River. The wins earn the two a bid in the final competition held at Keystone, CO and aired by NBC television March 5, 2005 at 1 pm EST. The top 25 from the finals will also be featured in the Sports Illustrated for Kids.
The top boys winner was Jackson Tupper of Kennebunk, Maine. Tupper's home resort is Sunday River and he is a participant in the Gould-Sunday River (GSR) Competition program. He previously placed 7th in the USASA Slopestyle event at Sunday River in 2003. He is sponsored by Wheels N Waves.
Taylor Owen of New London, NH won the girls division. Owen's home resort is Mt. Sunapee, New Hampshire and she previously placed 2nd overall in her age group at the USASA Nationals at Sunday River in 2003.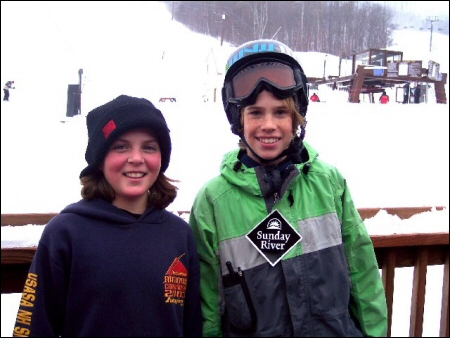 Jackson Tupper and Taylor Owen
(Photo: Courtesy of Sunday River Resort)
The Sports Illustrated for Kids Next Snow Search is a quest to find the neXtreme generation of skiers and snowboarders. It's not just a competition ??"style, attitude and personality are also judged. Boys and girls compete together in one class. Skiers, snowboarders and adaptive skiers ages 9-13 are eligible. The Sunday River competition included a multi-discipline event that consisted of carving and a gates section, as well as slopestyle discipline. Time made up 25 percent of the multi-discipline section.
For more information about the Next Snow Search, go to snowmonsters.com.