More Snowmaking Action Atop Snowshoe Mountain, Opening Day Just Weeks Away
SNOWSHOE, West Virginia — After receiving 9.5″ of natural snow at the end of October, Snowshoe began complimenting Mother Nature's work in a big way this weekend with snowmaking efforts across the mountain. After a brief warming trend last week, temperatures plummeted on Saturday, allowing snow guns to come to life across the Snowshoe Basin and Silver Creek areas. Sunday's freezing temperatures allowed the guns to pump out piles of the white stuff throughout the day and into the beginning of the work week.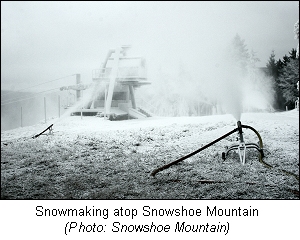 Snowshoe was one of the first resorts to turn on its region's-best snowmaking equipment this season, beginning efforts on October 27th, one of the earliest start dates for snowmaking in the Southeast over the past several years. That early start was followed the next day with an early-season winter storm that blanketed the Pocahontas County resort in nearly a foot of natural snow. With Opening Day planned for November 26, Snowshoe plans to continue making snow whenever weather conditions allow. Long-term forecasts show above-freezing temperatures for the middle of the week, followed by some more ideal snowmaking conditions beginning Saturday and continuing through at least mid-week next week.
As a drive-to destination, Snowshoe's 60 slopes and 244 acres of skiable terrain are the perfect destination for skiers and riders looking for a big mountain experience without the hassles and high-costs of airline travel. With skyrocketing tickets prices, checked baggage fees and the prospect of delays and cancellations, why not skip the airport and go straight from your car to your vacation at Snowshoe?! With budget-conscious travelers in mind, last week the resort announced three Smart Ski Escape Packages, offering winter enthusiasts great deals including a relaxed 72-hour cancellation policy and free lift tickets for juniors. Snowshoe annually receives 180 inches of natural snow, providing the best conditions in the region, and the most time to enjoy them??"an average of 130 days of skiing and riding a season.
For more information on the fast-approaching ski season, hot deals and all the amazing adventure and family activities available, please visit http://www.snowshoemtn.com or call one of our friendly Reservations Specialists at 877-441-4FUN.
Snowshoe Snowmaking Facts:
100% snowmaking coverage in Snowshoe Basin, Western Territory and Silver Creek areas
Over 400 snow guns, including 15 tower-mounted, fully automated, Techno Alpine guns added this season
Both portable and fixed guns dot the slopes, allowing maximum flexibility when it comes to covering them with snow or creating features in the terrain parks.
Snow making requires the right blend of temperature and humidity; the less humidity the better.
Over 40 miles of pipeline provide water and air to every slope. That's 60 trails and 244 acres of rideable terrain. Water and air from these lines flow at high pressure to produce the best possible snow.
Snowshoe Mountain recycles water from the resort's 40-surface acre, 101-million gallon Shavers Lake to produce snow. The resort also has more than 25 million gallons of water in the Silver Creek Lake.
Snowshoe Mountain is a four-season, Intrawest destination resort situated in the southern portion of the pristine Allegheny Mountains. Celebrating its 35th winter season in 2008-2009, this 11,000-acre playground offers 1,500 feet of vertical drop for its expansive skiing terrain. With a mountain top village nearly one mile high in the sky, Snowshoe offers unique variety of lodging, dining and shopping options. For more information visit http://www.snowshoemtn.com/todo/events/calendar/index.htm