Mount Snow Announces Opening Day
WEST DOVER, Vermont — Officials at Mount Snow announced today that the mountain will open to the public at 8 a.m. on Saturday, November 22, 2008.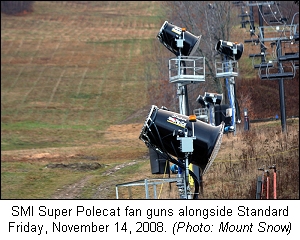 Details of the opening are being kept under wraps. "I can tell you that we'll be open on 11/22/08, we'll have top to bottom runs, and freestyle skiers and riders will not be disappointed," hinted Mount Snow's general manager, Kelly Pawlak. She added that information including open lifts and trails, amenities and lift ticket pricing will be released on Wednesday, November 19.
Pawlak said snowmaking will resume this Sunday night and run through the week, although she would not say which trails, or how many, would be included in the plan. "That's our secret for now," winked Pawlak. She noted that Mount Snow's 251 new-technology fan guns, the most of any resort in North America, are "ready to roll."
Mount Snow opened a small terrain park to the public, free of charge, on October 19 and kept it open until November 5, 2008.
Mount Snow's website at www.mountsnow.com will be updated frequently as opening day nears, and guests are urged to check the snow report daily for updates.