Mount Snow Hosts 2012 Jack Jump World Championships with Sue Zakatis Winning
Sue Zukatis Wins Her Fifth Straight Women's World Title
West Dover, VT (March 4, 2012) – Over 40 competitors of all ages turned out for an exciting day of Jack Jump racing at Mount Snow Resort on Sunday , March 4 for the Jack Jump World Championships with local girl Sue Zukatis taking her fifth straight World Title on the women's side. Zukatis and the rest of the field took on a dual slalom course located on the Charlie's Chase trail riding their custom-made Jack Jumps; a single ski with a homemade seat attached to it and the rider uses only his or her feet and balance to navigate the race course.
The actual origins of Jack Jumping are still a mystery, but it is believed that the earliest Jack Jumpers date back to the mid-to-late 1800's and since then they have been used primarily for recreational purposes.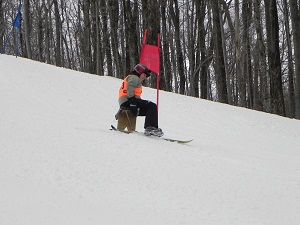 "This event has grown every year since we started hosting the World Championships here at Mount Snow," said Gina Sarlo, the event's coordinator, jack jumper and Mount Snow's Base Area Facilities Manager. "It's so unique and so much fun, people are really starting to get into it!"
The 41 person field was made up of folks from far and wide but the bulk of the competitors hail from the Mount Snow area, where Jack Jumping has really caught on as a popular activity.
Local Jack Jump World Championships results:
Men
4th – Darby Howe
6th – James Walker
9th – Kerry Bourne
12th – David Poggi
13th – Josh Avera
14th – Brad Lackey
18th – Ryan Lavoie
21st – Jeff Wasielewski
23rd – Sam Bourne
25th – Dan Urbinati
36th – Brendan Ryan
Women
1st – Sue Zukatis
8th – Gina Sarlo
9th – Denise Langran
10th – Lori Pulis
11th – Sally White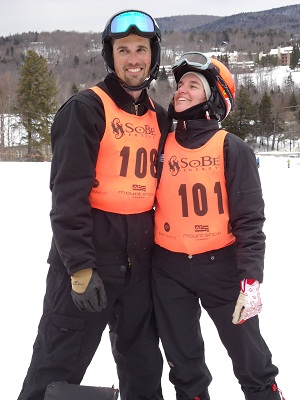 Kids
2nd – Anthony Santoro
3rd – Coleman Moore
For more information on events, conditions and deals visit mountsnow.com .