New Hampshire Author Brings Mogul Skiing to the Masses
EASTON, New Hampshire ??" A New Hampshire author has written a new how-to mogul-skiing book meant to give fit, expert skiers the ability to ski moguls with the smoothness, efficiency and control of the competitive bump skier.
In Everything the Instructors Never Told You About Mogul Skiing, author and competitive bump skier Dan DiPiro reveals the special techniques that competitors use to negotiate big bumps and deep troughs on steep slopes. DiPiro explains, among other things, how bump skiers maintain balance by using an exceptionally upright "home posture," how they control speed by actively absorbing bumps and extending their legs into troughs, and how they use special line-choice methods to chart straight courses through difficult, irregular moguls.
"The moguls require special techniques," says DiPiro, "but most skiers try to use only groomed-trail techniques in the bumps, and most instructors mistakenly encourage this. My book is meant to equip expert skiers with the special methods they need to become good bump skiers and true all-mountain experts. It??в"ўs also meant to be a useful tune-up guide for accomplished bump skiers and competitors."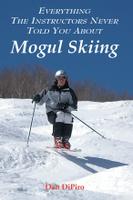 While common skiing wisdom has tended to regard mogul skiing as an esoteric specialty mastered only by daredevils, DiPiro says this conception of bump skiing is a misconception. For years, freestyle coaches have been teaching young kids to use mogul techniques to ski moguls well, says the author.
"I??в"ўve taught mogul techniques to ordinary expert skiers as young as 11 and as old as 65," he says. "From my own teaching, I know that average expert skiers can learn to ski bumps, if those skiers are taught the right techniques."
But why have mogul techniques gone largely unnoticed by the expert skiing masses? DiPiro says it??в"ўs because the skiing mainstream has its attention too closely focused on alpine racing techniques, and isn??в"ўt even completely aware that other valuable techniques exist.
"A lot of experts struggle on the mogul field because they know only those techniques related to carving," says the author. "But real carving isn??в"ўt even physically possible in a tight mogul fall line. To ski the bumps well, you have to do a lot of things very differently."
In the 1980s, DiPiro skied in two USSA Freestyle National Championships, qualified for international NorAm competition, and attained a mogul-skier ranking of 21st in the country. These days, he competes in open mogul contests around northern New England and teaches mogul skiing at New Hampshire??в"ўs Cannon Mountain. DiPiro is also a free-lance journalist and copywriter. His articles have appeared in The Boston Sunday Globe and a number of college alumni magazines, and his ad copy has appeared in SKI, SKIING, POWDER and Backcountry magazines. The author maintains a mogul-skiing blog at www.mogulskiing.blogspot.com.
Everything the Instructors Never Told You About Mogul Skiing can be ordered on line at www.LearnMoguls.com. Phone orders can be placed toll-free at 1-888-280-7715.