New Terrain Parks and Superpipe Music to the Ears of Killington Freeride Team
KILLINGTON, VT ??" Ushering in a new era in airtime at the largest ski and snowboard resort in the East, Killington's signature terrain park and Superpipe will have a new home this winter and Killington's Freeride Team, the Corps, is in a very good mood. The legendary Bear Mountain will boast a dedicated rail park, massive slopestyle course with hips, rails, tables, boxes and more, plus a rope tow serviced Superpipe.
"Moving the venue to Bear Mountain means more ways to jib it up," said Graham Bayne, a Corps snowboarder. "I'm looking forward to hitting a rail line on my way down to the rope tow serviced Superpipe, or sampling some big tabletops underneath the Bear chair on Wildfire. Saying I'm psyched doesn't even cover it."
The Bear Mountain move is just one piece of the freeriding puzzle that will be completed this season. The Timberline Terrain Park located at Ramshead will triple in length and feature a mini-pipe, plus the Easy Street Terrain Park will be loaded with features for newbies. Those who like to dive into the woods will find new tree skiing and riding areas resort wide for fruitful powder pursuits.
"I liken this to trading in your moped for a hummer," said Jay Rosenbaum, head of snowboard operations for Killington. "The one feature that I can't wait to construct is a hip at the bottom of Wildfire that will launch to a level above the lift. We've also got 20 new rail pieces to play with."
The current Killington Corps is comprised of five snowboarders and three skiers who call Killington their home mountain and venture across the globe to satisfy their snow fix. More Corps information including team biographies is available at the terrain park and pipe section of killington.com. This section will also feature a multimedia room with fresh footage and happenings from the Bear Mountain venue.
"My bio has a picture of my dog right now," said Myles Cotter-Sparrow, a Corps skier. "I had lots of photos to choose from but I really want to use something from the new Superpipe. It's going to be cut by a Zaugg. We're talking buttery smooth."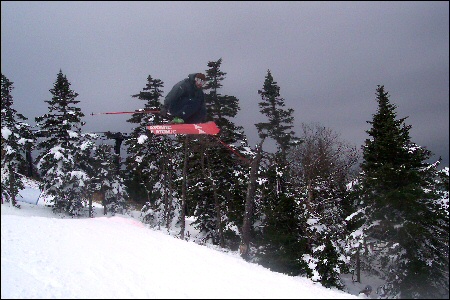 Myles Cotter Sparrow of the Killington Corps
(Photo: Courtesy of Killington Resort)
The Bear Mountain experience is coming full circle with the addition of an "Athlete Lounge" in the Bear Mountain Base Lodge that will feature comfy couches, a big screen television for ski and ride movies and an A/V hookup for watching footage just shot on the mountain. A full line-up of events will take place from Bear Mountain where the infamous Viper's Pit will be used as a big air jump site and the base will be lit up at night on special occasions for rail sessions.
Skiers and riders can keep tuned to all the happenings at Bear Mountain and across the resort jib-wise at the parks and pipe section of killington.com.