Northeast Ski Resorts Accept Another Challenge
In its second year, the AlpineZone Challenge continues to redefine the relationship between skiers, riders, and resorts.
Only the most dedicated skiers and riders spend a warm, sunny, June day talking about winter and snow. You know us ??" we're the ones who cleverly amend "sick days" to "ski days" in our job contracts or think nothing of driving in excess of five hours to put our feet down on snow. We're the loyal fans who show up in the parking lot of our favorite mountain at the crack of dawn with our skis, boards, and big smiles. I am one of those guys, and a year ago, I learned of the AlpineZone Ski Area Challenge while reading a website for skiers and riders of Wachusett Mountain. The posting mentioned asking ski areas questions in an organized format and I was intrigued: an open dialogue with our favorite resorts? Is there such a thing?
AlpineZone (www.alpinezone.com), like many other websites has pictures, trip reports, and a lot of information on the Northeast's many ski resorts. Eventually I found the Ski Area Challenge and this initial visit was eye opening. The expectation was a few cookie cutter questions from the moderator of the forum but instead I was impressed to find detailed questions and honest responses from bona fide ski resort employees in the know. Dave Gwatkin, of my home mountain, Burke, took almost half a page answering Steve Rheaume's question regarding the quad chair. In the challenge for Mad River Glen, Eric Friedman went at length discussing the history of the famous "Ski it if you Can" slogan and also answered questions about the heritage of the mountain and future plans. With such great information available, I signed up for AlpineZone and was hooked. Within minutes, I had submitted questions to Attitash and Sunday River. A few days later I was excited to see that even a new member like me could participate and that the ski area representatives really seemed to take my comments seriously. For the rest of the off-season, I took part in Challenges for other mountains by submitting questions to many different resorts including some I had never visited. When snow did fly, I revisited the Challenge Responses before considering any of my ski trips. Like other skiers and riders, the information that had been passed on directly from the resorts influenced where I would ski and which mountains I would visit that season.
The AlpineZone Ski Area Challenge was the brainchild of a couple of regular posters in the Skiing and Riding Forum. Bill O'Brien, posting as "Chilemass" began a topic entitled "…And Now, Let's Hear From the Marketing Department…" discussing ski area snow reports and websites and how he wished that ski area management would pay attention to what folks were saying online. In response, fellow poster "Joshua B" suggested that the website invite representatives from ski areas for an online interview and the website's founder and administrator, Greg Blasko, ran with the idea.
The first season of the AlpineZone Ski Area Challenge was a wide success. "Once the system was in place programmatically, I was almost fanatical about getting new question request threads started and posting the ski area reps' responses," reflected Blasko. In fact, in the first year, 2004, AlpineZone members had an open dialogue with 32 ski areas in the Northeast ranging from Pats Peak, with only 710 vertical feet and 22 trails, all the way to Killington, the largest ski resort in the east. Regardless of size or reputation, each of the participants was subject to a round of questioning. Blasko then chose ten questions to send to the designated resort representative. After the representative had a chance to research and answer the questions, the official answers were sent back to Blasko who then posted the information on the website, where people could offer follow-up comments and their own assessments. "It was great, you see, responses to detailed, specific questions are not easily achieved by simply e-mailing the mountains. The AlpineZone Ski Area Challenge provides an alternative," said Blasko before admitting, "I look forward to seeing the ski area reps' responses as much as anybody." Looking through the list of resorts and reading the responses, one quickly gets the impression that many resorts were excited to interact with us, their most loyal customers, and many took the input and comments quite seriously.
But after the successes of the 2004 Challenge, there were doubts that it would go forward. Would it be seen as redundant by both posters and the resorts? Could people come up with new questions? Would resort representatives take the challenge seriously? To gauge response, the moderators started a thread for posters to express their opinion about the challenge. The response was positive with many people asking, "Can you invite my mountain?" Blasko also contacted industry representatives and those who had participated in the 2004 Challenge. The replies were equally enthusiastic with many using adjectives such as "revolutionary," "proactive," and "unique" to describe the program.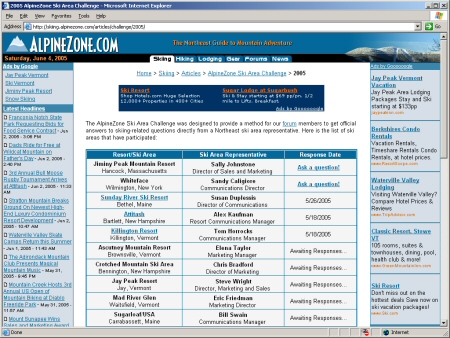 The 2005 AlpineZone Ski Area Challenge
As for credibility, many ski areas now view AlpineZone as a distinguished source of information. After completing the survey, Killington's Tom Horrocks said, "Yes, I do think that the Challenge adds credibility to the website," before adding that he "visited AlpineZone frequently," to gain input on Killington and its operations. "We always take input and from numerous sources to evaluate our position." Alex Kaufman, from Attitash, echoed Horrocks about the challenge. "We're always interested to hear from our guests and those that have yet to ski here. The Challenge has proven to be another useful tool in gauging what our guests are most concerned about." Ski resorts are usually wary of chat rooms and message boards frequented by skiers and riders. "Rumors are a problem as many posters will state what they heard in at a bar or read on another chatroom as if it were fact. Occasionally, these posts will build into large conversations about a single untrue post, with all acting as if it were the truth." Kaufman reflected on his experience with AlpineZone saying that, "the news section of AlpineZone and the proactive approach of the Ski Area Challenge make it a reputable source for snow resort industry information."
Dedicated skiers and riders are excited by the prospect of once again getting an opportunity to speak directly to their favorite resorts. After posting the very first question in the 2005 Challenge, posed to Attitash, "Bob R" offered his thoughts about the program. "The challenge offers a marketing department the chance to get a resort point of view across in a non press release form. It also lets them know what is on the skiers mind." Bob should know. Besides being an active skier, he once worked in the ski industry and said that the Challenge allows resorts to speak directly to their target audience. "It really is progressive and I don't think anyone else does it. It gives the reader info on resorts they might never have gone to," he said.
Another member, posting as "kickstand," reflected on his experience thus far with the Challenge. "I think it's a great idea for areas that don't have forums to answer questions from the online community that may not otherwise get answered." Many resorts do not have much of an online presence except for their websites, which offer basic information. Such infrastructure and marketing is quite costly and few resorts today have the resources or the manpower to dedicate to creating or even managing forums for their customers to voice concerns. A glance at the 2005 list of resorts includes many smaller mountains with smaller budgets and less visibility than those with bigger followings. "Your average skier can't just walk into the VP of Communications office at one's favorite resort and get straight answers like this." In his view, AlpineZone reliable resource for ski resorts, skiers, and riders alike. "It's a central location to go for information about resorts you may or may not find by going to other sites," which includes the Challenge answers from resorts and sometimes the "brutally honest reviews of those resorts from other skiers."
Fellow poster "ga2ski" rattled off a list of other sites that he frequents including dedicated sites for Sunday River and Killington, but admitted, "The challenge is why I joined AlpineZone. The challenge allows you to ???hear it straight from the horse's mouth,'" which is what the base of the skiing market demands. "I like the fact that you can interact with mountain reps. I appreciate their time."
"Bob R," "kickstand," and "ga2ski" are only a small sample of dozens of enthusiastic skiers and riders who, in the opening three weeks, have posted 202 comments or questions to the first nine resorts, both large and small, creating quite a buzz. These nine resort challenges have received 5,287 hits alone, with Killington garnering a whooping 1,200 by itself. All of this activity comes during the slowest time for ski areas and within the first month of the 2005 Challenge.
During the opening days of the Challenge, members of AlpineZone asked Attitash about their 40th Anniversary Celebration; quizzed Killington management about rampant rumors that the 2005-2006 Season was going to be much shorter than normal (which Killington assured posters that this rumor was not true); asked Mad River Glen to allow snowboards for one day; gained more information about Ascutney Mountain Resort; asked Sunday River if it could start a new season pass program that included both skiing/riding in the winter and golf during the summer. While other winter sports enthusiasts could only speculate as to what was happening at these resorts, AlpineZone members have solid information. Quoting Blasko, "everyone benefits," including the skiers and riders, the smaller independent ski areas, and even the larger more popular mountains.
The AlpineZone Ski Area Challenge can be found in the Skiing section of the AlpineZone website (skiing.alpinezone.com). One can see a list of resorts that are being questioned and read the responses from earlier challenges. Anyone can submit questions for consideration by first completing the simple and free registration with the site.
Resorts interested in taking the AlpineZone Challenge can contact Greg Blasko, the administrator of the site, at [email]contact@alpinezone.com[/email].
About the author
Michael Stahler is an avid skier, snowshoer, and hiker originally from the Northeast Kingdom of Vermont. He is the skiing and gear moderator for AlpineZone.com and is a coordinator for the 2005 AlpineZone Ski Area Challenge. He can be contacted for more information or with article ideas at [email]michael_stahler@yahoo.com[/email].