October Snowstorm Slams into Killington
KILLINGTON, Vermont ??" The earliest winter storm in more than 20 years dumped more than a foot of new snow at Killington Resort overnight and the forecast is calling for more.
"Winter has arrived and this is only a taste of what we'll see when we open for the season with top to bottom skiing and snowboarding on Nov. 11th," said Nick Polumbus, brand manager for Killington Resort.
More than 300 snow guns are ready to fire on Rime, Reason and Great Northern trails as temperatures and more snow are expected to drop this week when another low pressure system combines with moisture from the remnants of Hurricane Wilma.
"This was a bit of a shock to a lot of folks to see a winter storm this early in the season, especially considering the warm weather we have had this fall," said Eye on the Sky meteorologist Steve Maleski with the Fairbanks Museum in St. Johnsbury, Vt., "??В¦ and there is also another chance for more snow Tuesday night into Wednesday."
According to Maleski, Sunday's snowstorm was the largest since October of 1982 when up to 18 inches of snow fell throughout Vermont.
Killington Resort averages 250 inches of snow each season, complemented by the world's largest snowmaking system covering 750 acres of the resort's 1,209 acres of total skiable terrain.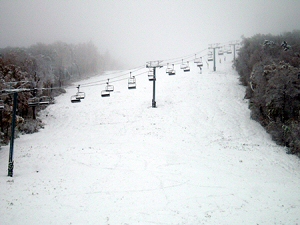 Early winter snow on Superstar
(Photo: Killington Resort)