Okemo East Coast Freeskiing Open – Day #1 Results
LUDLOW, Vermont ??" The East Coast Freeskiing Open completed the first day of competition yesterday at Okemo Mountain Resort in Ludlow, Vermont with the Men's and Women's Slopestyle events. Maxime Vanier of Saint Basile La Grand, Quebec took first place in Men's Slopestyle, claiming the $2,000 cash prize, while Laura Cevoli of Monroe, New York placed first in the women's division carrying a $1,000 cash prize. The action continues through the weekend with new-school skiers going all out with hot tricks and unstoppable action in Superpipe and SAAB/Salomon Crossmax competitions, as well as an exciting nighttime Red Bull Rail Jam.
In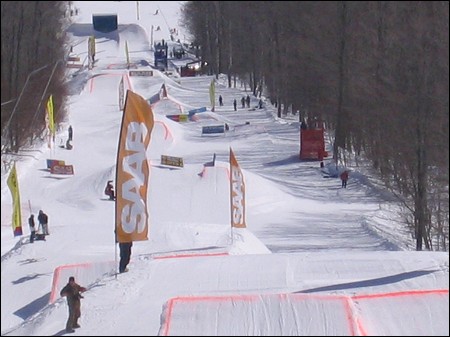 Slopestyle course from the top on the Nor'Easter Terrain Park
(Photo: Courtesy of Okemo)
its second year the East Coast Freeskiing Open offers well-known and up-and-coming athletes the opportunity to compete for a $25,000 purse ?В­one of the largest in freeskiing. The event introduced last year at Okemo, was the first freeskiing event of its kind in the Northeast. The top three finishers from each competition at the East Coast Freeskiing Open will be guaranteed a spot in the 2006 U.S. Freeskiing Open, widely considered the most prestigious event in the sport.
Complete results for Slopestyle at the East Coast Freeskiing Open include:
Men's
1. Maxime Vanier, Saint Basile La Grand, QB
2. Richie Paradise, Concord, NH
3. Chris Logan, Centre, MA
4. Colby West, Canterbury, NH
5. Nick Martini, Winchester, MA
Women's
1. Laura Cevoli, Monroe, NY
2. Heather LaHart, Worcester, MA
3. Emily Bennett, London, ON, Canada
4. Iris Dougherty, Pittsfield, VT
5. Susan M. Fournie, Princeton, MA
Upcoming Freeskiing events:
Saturday, March 5, 2005:
1:30-3 p.m. – Superpipe Finals
5-7 p.m. – Evening Red Bull Rail Jam
Sunday, March 6, 2005:
2:30-3 p.m. – Saab/Salomon Crossmax Finals
Registration for the event is open to skiers of all ages and abilities. To enter, athletes should visit www.usfreeskiingopen.com or register on-site.
The East Coast Freeskiing Open is produced by Mountain Sports Media and Saab is the presenting sponsor. Associate sponsors include: Salomon Skis, American Express, Okemo Mountain Resort, and Skiing magazine.