Pats Peak Donates over $600 To Support Melanoma Research
Henniker, NH, March 27, 2012 – Pats Peak, New Hampshire's premier snowsports destination, announces that as part of Pats Peak's March Online Only Specials, SPF Days Go Sun Smart, they have donated $610 to support melanoma research.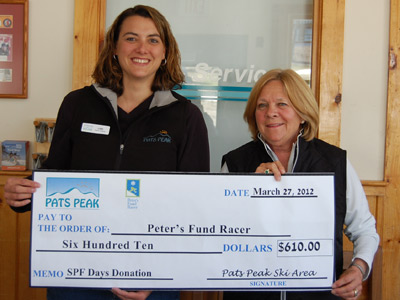 Skiers and riders were able to purchase a lift ticket online in advance to ski/ride March 19-23 for only $25. For every online ticket sold, $10 of their $25 lift ticket went toward a donation to "Peter's Fund Racer" to support melanoma research. Guests also received a sample of sunscreen to protect them from the sun's rays.
Kris Blomback, General Manager of Pats Peak said, "We understand that skiers and riders are always looking for a deal in March so we are happy to support this important cause and at the same time provide a discounted rate to our skiers/riders. Those looking for a deal were able to get in some last runs of the season under the sun, support a good cause and get a great deal."
About the PETERS FUND RACER:
The primary focus is to raise money for melanoma research and patient care. Malignant melanoma is the most deadly form of skin cancer. The number of people who develop melanoma is increasing faster than any other cancer. Deaths from complications of this disease are increasing at a faster rate than deaths from any other form of cancer except lung cancer. On May 23rd, 1999, melanoma claimed the life of Peter M. Newton at the age of 46. To make a donation or for more information on Peters Fund Racer, please visit www.petersfundracer.com .
More about PATS PEAK:
The 2011-2012 season completes PATS PEAK's 49th consecutive ski and snowboard season under the Patenaude family ownership. PATS PEAK has 22 well-groomed trails for day and night skiing/riding, 7 gladed areas, 3 terrain parks, a snowtubing park, 10 high-capacity lifts, 100 percent snowmaking, and some of the most challenging skiing in Southern New Hampshire.
PATS PEAK has a Weekday Learn to Ski and Snowboard Program for more than 8,000 kids from over 100 local schools and a Weekend Learn to Ski and Snowboard Program for adults and children. There are more than 70 Adult/Corporate Racing teams in the Adult/Corporate Racing League. Many adults participate in the weekday Adult Ski & Snowboard Clinics for all ability levels. PATS PEAK has 100% of its trails lit for night skiing/riding and is one of the state's most accessible learn-to-ski-and-snowboard mountains, with three separate beginner areas.
During the "Other Season of PATS PEAK", PATS PEAK Banquet Center is the perfect location for wedding receptions, parties, company meetings, company outings, or any social gathering!
PATS PEAK is located in Henniker, NH, just twenty minutes from Concord, forty minutes from Manchester, and ninety minutes from Boston. The latest information, snow conditions, photos and events are available at www.patspeak.com or call 1-888-PATS PEAK (1-888-728-7732).
PATS PEAK can be reached:
– By telephone at 603-428-3245
– By fax at 603-428-7821
– 24-hour snow conditions at 1-888-PATS-PEAK (728-7732)
– Online at www.patspeak.com