Pico Mountain donates $6,653 to United Way of Rutland County through Pico Card promotion
KILLINGTON, Vermont ??" Skiers and snowboarders flocked to Pico Mountain opening weekend Dec. 16-18 to assist those in need during the holiday season and experience the best early-season conditions in years.
George Potter, general manager of Pico Mountain, presented the United Way of Rutland County a check for $6,653 following the resort's Pico Card fundraising promotion on opening weekend.
"This is a great fundraising effort for the United Way," said Phil Alderman, campaign chairman of the United Way of Rutland County. "Our campaign right now has a $30,000 shortfall, so this promotion puts a big dent into that shortfall and hopefully we can rally around in the next four weeks to make up the rest."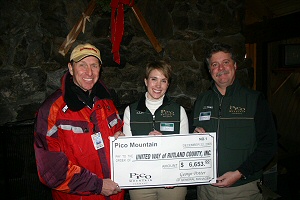 Phil Alderman (left), campaign chairman
of the United Way of Rutland County,
accepts a check for $6,653 from Rachel
Webster, Pico Mountain marketing manager,
and George Potter, Pico Mountain general
manager, from funds raised through the
resort's Pico Card promotion Dec. 16-18.
(Photo: Killington)
Pico Mountain provided Pico Cards to more than 650 skiers and snowboarders who donated $10 or more to the United Way of Rutland County during the resort's opening weekend. Regularly priced at $49, the Pico cards provide skiers and riders discounted lift tickets for just $29, a $20 saving over ticket window prices.
With numerous natural disasters over the past year, charitable donations on the local level have taken a hit. "There are 33 human services agencies in Rutland County so the money will stay right in the area," Alderman said.
"We were overwhelmed with the success of this program. The response from the local community was incredible," Potter added.
With more than eight feet of snow so far this season, Pico Mountain is off to one of its best starts in recent years. For the Christmas Holiday week, 31 of the resort's 50 trails will be open, served by five lifts. Pico Card holders can ski or ride this Christmas Holiday weekend for just $29 for adults and just $19 for juniors, seniors and young adults. Lift hours at Pico Mountain are 9 a.m. to 4 p.m. Monday through Friday and 8 a.m. to 4 p.m. weekends and holidays. For updated mountain conditions, visit www.picomountain.com. Killington lift tickets are also valid at Pico Mountain.