Seven Springs Mountain Resort Opens for the Season
CHAMPION, PA ??" With nearly a foot of natural snow this week, near perfect snowmaking conditions and the promise of more snow on the way, Seven Springs opened for the season today.
The resort opened 14 trails, including Avalanche, Tyrol, Stowe, Wagner and North Face slopes, Fawn Lane, Phillip's Run and Cortina trails. Six lifts were in operation, including the high-speed six-passenger Coca-Cola Polar Bear Express.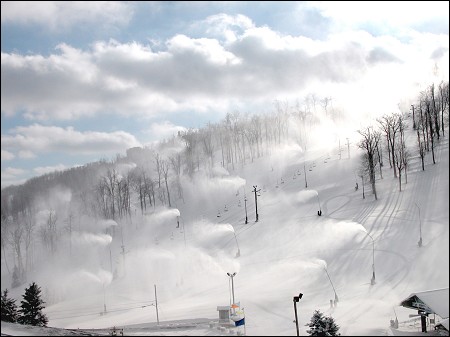 Seven Springs Mountain Resort Opens for the Season
(Photo: Courtesy of Seven Springs Mountain Resort)
"Everyone is excited to get the winter season started," comments Scott Bender, president of Seven Springs Mountain Resort. "And based on the long range weather forecast through next week and our snowmaking capabilities, we anticipate having all 31 slopes and trails open by December 24."
With regular hours of operation in effect, guests can enjoy the slopes both day and night. Lifts started at 9:00 a.m. and will run until 10:30 p.m. tonight and Saturday and 10:00 p.m. on Sunday. Additional terrain will open as natural snowfall and snowmaking efforts allow, so stay in touch with the snow report for the latest conditions by calling 800-523-7777 or visit www.7springs.com.
As a special opening weekend treat, midweek season pass holders, and The Springs at Laurel Mountain pass holders will be permitted to use their passes at Seven Springs, Friday, December 17 through Monday, December 20.
Snow tubing will also open for the season on Saturday, December 18. Guests can check the snow report for hours of operation.
Seven Springs Ski and Snowboard School, Tiny Tot Ski School and the rental shop will be in full operation. The resort will also host the first of two Subaru "Master the Mountain" events this weekend in conjunction with the start of the season.