Ski Sundown Opening for 41st Season Friday
NEW HARTFORD, Connecticut — On Friday, December 18, Ski Sundown opens for the season with 6 out of 15 trails with 8 additional trails open by Saturday and 100% of its terrain open by Monday, December 20.
Ski Sundown began snowmaking operations on Sunday, December 6 and despite ups and downs in the temperatures over the past 10 days, Chris Sullivan, Operations Manager said, "We will open on Friday with full coverage on 6 trails including a terrain park and seeded mogul run. By Saturday morning we will have all our trails open except Gunbarrel but expect that trail to be ready by Monday morning."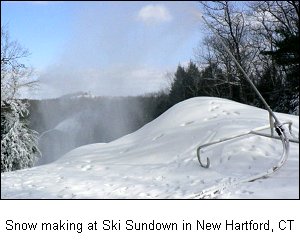 Improvements at Ski Sundown for the 09/10 season include increasing water pumping capacity by 40% and reconfiguring a water delivery system to allow more water to snow guns as weather permits.
Sullivan says, "This will allow us to take full advantage of short weather windows of opportunity making more snow in a shorter period of time."
The snowmaking industry continues to advance energy efficient technology and Ski Sundown will be testing out new snow guns this season that use 2/3 less compressed air. Air is used in the process of snowmaking however, it is not part of the final product…the snow is entirely made of water.
On opening day, Ski Sundown will offer top to bottom skiing and snowboarding on Canyon Run, Exhibition, Nor'easter, Temptor, Stinger and Little Joe. Mogul skiing will be offered on the Stinger trail and the terrain park on Stinger will have an assortment of rails and other terrain features for both skiers and snowboarders.
Ski Sundown is located at 126 Ratlum Road, off Routes 44 and 219, in New Hartford. Opening day hours are 9am until 10pm. For ticket and rental rates and lesson information go to www.skisundown.com.