Ski Sundown Opening for Its 40th Season on Friday, Nov. 28
Friday's opening will mark the earliest opening on record for the ski area.
NEW HARTFORD, Connecticut — Ski Sundown in New Hartford will open for the 2008-09 skiing and snowboarding season this Friday, November 28, marking the start of the Connecticut ski area's 40th season. Opening day will consist of 6 of its 15 trails open for skiing and snowboarding. The Ski Sundown snow making team began operations on Tuesday, November 18 and for 132 continuous hours produced 4.8 million cubic feet of snow.
Chris Sullivan, Operations Manager said, "It's unusual to get such cold and dry temperatures in mid-November and the quantity and quality of the snow we've made is what we normally see in January."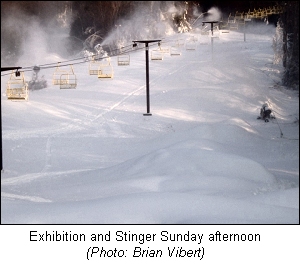 For the fifth consecutive year Ski Sundown is opening with 100% low energy snowmaking guns allowing 100 guns to be run simultaneously and producing enough snow for 6 trails to be open on opening day. In addition, Ski Sundown has invested a quarter-million dollars in a new Pisten Bully grooming machine with triple the pushing power and using 20% less fuel thus enabling the area to cut its grooming fleet by a third.
Ski Sundown will offer top to bottom skiing on Canyon Run, Exhibition, Nor'easter, Temptor, Stinger and Little Joe with a 36″ to 60″ base. Due to the abundance of snow, mogul skiing will be offered on the Temptor trail and the terrain park on Stinger will have a full complement of rails and other features for both skiers and snowboarders.
Friday will mark the beginning of Ski Sundown's 40th season. Sundown skiers are filled with anticipation of the season starting in November, evidenced by an 11 page topic on the AlpineZone.com forums discussing the area's snow making progress.
"I have been monitoring Ski Sundown's snow making efforts over the past week, and as a first time season pass holder my investment is proving to be wise," said Chris Grassi of Southbury. "Ski Sundown's investments and future plans have assured me that it will be a place for me and my family to grow as skiers for years to come," added Grassi.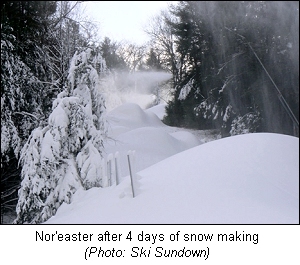 Ski Sundown is celebrating its 40th season with numerous events all season long, including a 40th anniversary party on January 11, two mogul competitions on January 24 and March 22 and several terrain park "jam sessions." To also celebrate the mountain's 40th anniversary, Ski Sundown will be offering their "First Time" ski or snowboard package to anyone age 7 and older for just $40 through December 24. If you happen to be exactly 40 years old, your "First Time" package is free. The package includes a 90 minute group lesson, equipment rental and a lift ticket to the learning area.
More information can be found on Sundown's events at www.skisundown.com/events/. Updated snow conditions can be found at www.skisundown.com/conditions/ or by calling 860-379-SNOW (7669) and pressing 1.
Ski Sundown is located at 126 Ratlum Road, off Routes 44 and 219, in New Hartford. Opening day hours are 8am until 10pm. For ticket rates and lesson information go to www.skisundown.com.
Ski Sundown opened in 1969 and was operated by the Carter Family from 1972 through 2002 when current owner and General Manager, Robert J. Switzgable purchased the area. Ski Sundown has 15 trails and 5 lifts and offers ski and snowboard rentals and lessons to children and adults.