Snow Is Piling Up At Mount Snow Resort With More Than 14" In Less Than 24 Hours
Opening 100% Of The Skiable Terrain For The First Time This Season
West Dover, VT (March 1, 2012) – After a couple of near misses from snow storms in the last week, Mount Snow in southern Vermont appears to be getting the brunt of this most recent storm with over 14 inches of new snow measured at noon today and forecasters are calling for the potential of an additional 6 inches to accumulate by Friday morning. With the news of the forthcoming snow storm, the resort posted a faux doctors note on its Facebook page Wednesday afternoon prescribing "powder turns and mountain air" for those that wanted an "official" reason to call in sick to work and come enjoy one of the only major snow storms of the season.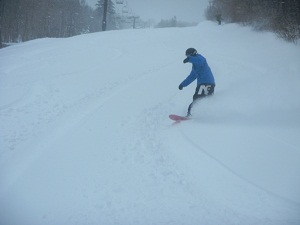 "Our mountain operations team has done an incredible job keeping this place is great shape since opening day despite the lack of natural snow," said Kelly Pawlak, Mount Snow's General Manager. "But this is what we as a resort, and our guests, have been waiting for all season long. Thanks to this storm, every inch of our terrain is now open and we are looking forward to a successful spring."
This is the first major storm since the resort received 17 inches of snow in a 48 hour period just before the Martin Luther King Jr. holiday weekend back in January. Since then, natural snow has been scarce but Mount Snow has made 25% more snow this season than average thanks to its powerful snowmaking system which includes over 250 high output/high efficiency fan guns.
March comes in like a lion just in time for the start of Mount Snow's Vernal Eternal celebration which is six weeks of events, parties, live music and deals scheduled all the way through Easter weekend.
For more information on Vernal Eternal at Mount Snow, visit vernaleternal.com . For details on conditions, vacation packages and other information, visit mountsnow.com .