Snowmaking Underway at Killington for 2009-10 Ski, Snowboard Season
KILLINGTON, Vermont — Snowmaking is underway for the 2009-10 season at Vermont's Killington Resort, the largest ski and snowboard resort in the Northeast.
Crews began making snow at 1 a.m. with a number of guns going on Killington's Reason trail in the Northridge area. By later Tuesday afternoon, resort officials expect to have a number of Low Energy snow guns going on Rime and Upper Great Northern trails.
Mother Nature also helped us out with 4 inches of new snow at Killington Peak and 1.5 inches at K-1 Lodge.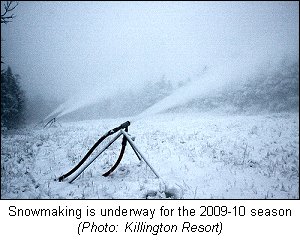 Based on the current forecast with overnight temperatures ranging from the middle 20s down to the middle teens, snowmaking will continue for the next four-six days.
Photos available here: http://www.flickr.com/photos/killington/
Video available here: http://www.youtube.com/watch?v=fH4pCPpIDtw&feature=player_profilepage
About Killington Resort
Rated as the "Favorite Eastern Resort" by the readers of Snoweast Magazine, and the No. 2 resort in the East by SKI Magazine! Killington Resort offers the most diverse ski and snowboard terrain in the east, an expansive lift network, the most extensive snowmaking system in the world complemented by numerous off-mountain activities, including apr??s, dining, shopping and lodging options. www.killington.com.