Snowshoe Mountain Resort is Hit by Another Early Season Winter Storm
SNOWSHOE, West Virginia — With just days to go before Opening Day of the 2008-2009 season at Snowshoe Mountain Resort, 4″ of natural snow fell overnight Saturday, and the resort also restarted snowmaking efforts across the mountain. Since the first flakes of the season fell in late October, the resort has received over a foot of natural snow and has been piling up man-made snow with its fleet of snow guns. Snow continues to fall lightly early Morning, and with a planned opening date of November 26, Snowshoe has more natural snow and snowmaking weather in the forecast throughout the week.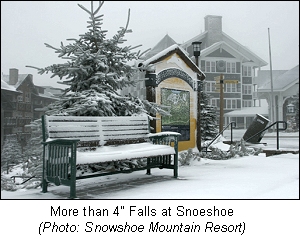 Snowshoe is celebrating its 35th Season this winter, and these early season storms have been the perfect gift from Mother Nature. Seasonal forecasts predict a long, cold, snowy winter, with average snowfall measuring around 180″ expected. Rain during the past week washed away many of the leaves remaining in local rivers and lakes, a sign locals say predicts the true arrival of winter. The rain also replenished Snowshoe's water supply for its snowmaking system.
With many skiers and riders looking for economical vacation packages this season, Snowshoe introduced three Smart Ski Escape Packages. These great deals offer amazing extras like a relaxed, 72-hour cancellation policy and free tickets for juniors. Snowshoe's drive-to location is perfect for skiers and riders in the Mid-Atlantic and Southeast, allowing snow enthusiasts to take advantage of falling gas prices and skip the high costs and hassles of airline travel.
For more information on the fast-approaching ski season, hot deals and all the amazing adventure and family activities available, please visit http://www.snowshoemtn.com or call one of our friendly Reservations Specialists at 877-441-4FUN.