Stratton Anticipates Nearly Half of Its Trails Open on Wednesday
STRATTON MOUNTAIN, Vermont — Seats on the coveted first chair of the season are up for grabs as are the bragging rights that come along with it. The day before Thanksgiving, Stratton Mountain Resort will fulfill seven months of anticipation and open it's slopes for the start of the 2008/2009 ski and snowboard season. When the lifts begin to spin on Wednesday at 9a.m. sharp, the mountain expects to have up to 40 plus top-to-bottom trails of all ability levels, serviced by 4 lifts. Please stay tuned to Stratton.com for daily updates.
With the most powerful snowmaking system in the east working twenty-four hours a day and the benefit of a few extra days of perfect snowmaking weather, Stratton skiers and riders will find themselves enjoying a first class mountain experience as good as any opening day in recent history.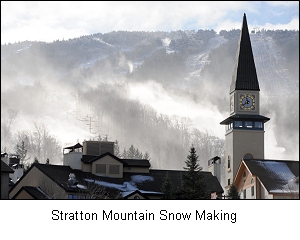 "We're taking full advantage of the snowmaking opportunities in front of us to bring not only the most quantity but also the best quality," says Stratton Vice President of Operations, Mike Quinn, "the extra time allows excess water from the snow pile to leach, and gives our grooming team more time to work the snow and prep the surface for the best possible skiing and riding conditions."
Despite an uncertain economic climate, operations for the coming year are full steam ahead. Stratton Management is optimistic about a successful and snow-filled winter, particularly due to a confidence in the quality of the snow product. According to Stratton COO and President Sky Foulkes, "Stratton stands firmly behind the quality of our snow product, as we utilize advanced and innovative techniques to groom it all down, and even guarantee our guest's satisfaction."
This year, you don't have to spend a fortune to get access to the best snow. A Stratton vacation is more affordable than ever with a variety of early season value packages.
Classic Lift and Lodging
Includes nightly lodging and daily lift ticket (hotels or condominiums).
Start at $59 midweek and $95 weekend.
Not valid December 26-Jan 3.
Mondays On Us
Stay with us Friday, Saturday, Sunday night and get a free lift ticket for Monday.
Lodging starts at $55/ night early season.
Three night stay is required. Not available Dec 26-28 & Jan 2-4.
Inn-Clusive
A convenient one-stop deal that includes lodging at the Inn at Stratton Mountain, lift ticket, breakfast, lunch, and rentals.
Starts at $99 per person.
Not valid December 26- Jan 3.
For the day or for the week, Stratton Mountain Resort is looking forward to another great season of bountiful snow, gold medal grooming, and providing its guests with unforgettable memories and everything they love about Vermont in one place.