Sugarloaf to Host AlpineZone Summit 2.0
Members of popular ski and snowboard forum to gather at Sugarloaf in March
CARRABASSETT VALLEY, Maine — AlpineZone.com, the northeast's most popular online outdoor adventure forum, will host the second annual AlpineZone Summit at Sugarloaf, March 25-27. AlpineZone.com members will enjoy discounted lodging packages, special apres ski parties, a free Sunday lift ticket, first tracks on Sunday morning, and more.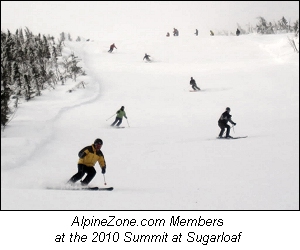 Sugarloaf, the largest ski resort in the East with 921 skiable acres, hosted the first ever AlpineZone Summit at Sugarloaf last winter, with roughly 40 members attending.
"When the opportunity to host a second AlpineZone Summit at Sugarloaf came up, I jumped at it immediately," said Greg Blasko, AlpineZone.com Founder. "Last year was a huge success, and Sugarloaf truly went above and beyond to show our members a fantastic time. The welcome party, apres party, and first tracks privileges made the experience very special, and we're psyched to do it again this season."
The Summit will begin on Friday night with a free welcome party in the Shipyard Brewhaus. Saturday will be spent skiing and riding on Sugarloaf's legendary terrain, and will include a guided tour of the newly opened Brackett Basin glades, part of Sugarloaf's massive, 655-acre terrain expansion onto Burnt Mountain.
Attendees will be invited to compete in the AlpineZone Mogul Challenge, which will see AlpineZone members race through some of Sugarloaf's most challenging terrain as they vie for the coveted "Golden Mouse."
At the end of the day members will be invited to attend the AlpineZone Apres Party in the Widowmaker Loft, where they will enjoy complimentary appetizers and pick up their free lift ticket for Sunday when they show their AlpineZone.com credentials. The first 75 members to sign up will be able to attend first tracks on Sunday morning at 7:30am. The Apres Party will also feature the annual AlpineZone Awards, recognizing many of the forum's most active members. Following the Apres Party, AlpineZone.com members will receive free admission to the Widowmaker Lounge, which will feature a live band.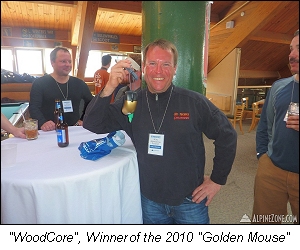 "It was great fun hosting the AlpineZone summit here last year, and we're happy that they've decided to return again this season," said Brad Larsen, Vice President of Sales and Marketing for Sugarloaf. "It's an exciting time to be at Sugarloaf right now and it will be great to have such a passionate community of skiers and riders here to experience it."
Sugarloaf recently announced a ten-year development plan called Sugarloaf 2020 which includes the 655-acre terrain expansion onto Burnt Mountain, as well as plans for lift upgrades, snowmaking enhancements, and improvements to resort facilities. Details of the plan are available at www.sugarloaf2020.com.
All active members of AlpineZone are eligible to participate in the AlpineZone Summit, and will be able to reserve their discounted weekend packages through Sugarloaf using a special code that will be made available on AlpineZone.com. Members who register will also receive official AlpineZone credentials, which will grant them free access to Widowmaker events throughout the weekend, and qualify them for their free Sunday lift ticket and first tracks.
Complete details regarding registration, lodging discounts, the mogul competition, and event itineraries will be released on www.AlpineZone.com in early winter.
For more information on Sugarloaf, please visit www.sugarloaf.com.