Sugarloaf to Host First Ever AlpineZone Summit
CARRABASSETT VALLEY, Maine — AlpineZone.com, the northeast's most popular online outdoor adventure forum, will host the first ever AlpineZone Summit at Sugarloaf, March 26-28. AlpineZone.com members will enjoy discounted lodging packages, special apres ski parties, a free Sunday lift ticket, first tracks on Sunday morning, and more.
"The AlpineZone.com forum has always been about facilitating face-to-face interactions among its members," said Greg Blasko, AlpineZone.com Founder. "This is how we define ourselves as a community, rather than just an online message board. We've had several gatherings at various ski areas all around the Northeast, but nothing of this scale. Our members include some of the most passionate and avid skiers in the Northeast, and everyone is looking forward to spending a weekend at the Loaf."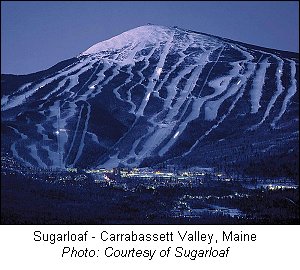 The Summit will begin on Friday night with a free welcome party in the Widowmaker Lounge. Saturday will be spent skiing and riding on Sugarloaf's legendary terrain, and will feature one of the highlights of the weekend, the AlpineZone Mogul Challenge on Misery Whip. An old t-bar line, Misery Whip is notorious as one of the narrowest and most challenging bump runs in the East. AlpineZone.com members will also be able to partake in free timed runs on Sugarloaf's NASTAR course on Boardwalk.
At the end of the day members will attend the AlpineZone Apres Party in the Widowmaker Loft, where they will enjoy complimentary appetizers and pick up their free lift ticket for Sunday when they show their AlpineZone.com credentials. The first 75 members to sign up will be able to attend first tracks on Sunday morning at 7:30am. The Apres Party will also feature the first ever AlpineZone Awards, recognizing many of the forum's most active members. Following the Apres Party, AlpineZone.com members will receive free admission to the Widowmaker Lounge, which will feature a live band.
"We're very excited to be working with AlpineZone on this event," said Brad Larsen, Sugarloaf Director of Sales and Marketing. "We're active in lots of different social media outlets and this is a great way to translate that activity from the virtual world into actual skiing and riding."
All active members of AlpineZone are eligible to participate in the AlpineZone Summit, and will be able to reserve their discounted weekend packages through Sugarloaf using a special code that will be made available on AlpineZone.com. Members who register will also receive official AlpineZone credentials, which will grant them free access to Widowmaker events throughout the weekend, and qualify them for their free Sunday lift ticket and first tracks.
Complete details regarding registration, lodging discounts, the mogul competition, and event itineraries will be released on www.AlpineZone.com in early winter.
For more information on Sugarloaf, please visit www.sugarloaf.com.