Sunday River Opened for Skiing and Riding Wednesday
NEWRY, ME ??" Sunday River opened for the 2004-2005 season today, November 10, at 9 am.
The snowmaking system was fired up Sunday night at midnight and has run consecutively since. When the lifts opened Wednesday, the system had run for nearly 60 straight hours.
Risky Business, an intermediate trail on Spruce Peak will open and the resort expects to offer top to bottom terrain to the South Ridge Base Lodge with the Spruce Peak triple and the South Ridge quad in operation. South Ridge is beginner terrain. By the weekend, the trails Ecstasy and Cascades, both intermediate trails on Barker Mountain, are expected to open along with the Barker Mountain quad.
Snowmaking will continue as long as temperatures allow and terrain will expand rapidly as 92 percent of the 663 acres at Sunday River is serviced by snowmaking.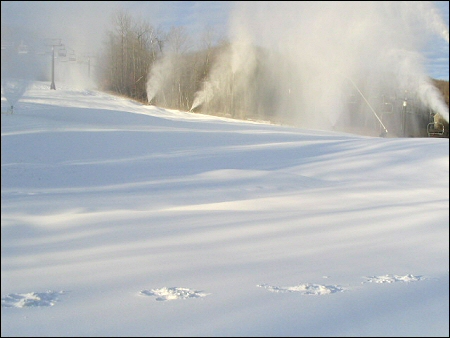 Sunday River Snowmkaing Results – November 10, 2004
(Photo: Courtesy of Sunday River)
Lift ticket prices for opening day are $30.00 for all ages and a half-day ticket is $25.00 for all ages. All services for the remainder of the week are at South Ridge. Guests should check www.sundayriver.com for updates.