The Myth of On-mountain Retail
WINDHAM, NY ??" Slopeside. It's the ski area hot spot. For lodging. For dining. For apres-ski action. For everything.
Except, many people think, for shopping.
"The idea that retail is more expensive at on-mountain ski shops is the major misconception we encounter," says A.J. Savasta, retail manager at Windham Mountain. "Our pricing is competitive. Many people are surprised by that."
Some perception of on-mountain over-pricing might derive from sticker shock suffered at high-end, western destination resorts. There, exorbitant pricing often extends across the board from retail to lodging and dining. At a family-oriented, eastern destination like Windham Mountain, the story is different.
"For ski, there's suggested retail and the so-called street price," says A.J. "We go strictly by manufacturers' suggested prices, and often street prices. And, with equipment, we always sell the street price. Gear is not marked up because it's on the hill."
On-mountain outerwear pricing, of course, differs from pricing at national "big box" discount chain stores. On the other hand, there's an even bigger difference in quality, according to Savasta. "At a discount store, you can get gloves for nineteen dollars," he points out. "That stuff is great for sending the kids to school, but it won't hold up here. We sell outerwear that's specifically designed for a ski area environment – skiing through snowguns and in the cold – which is probably the most rigorous workout clothes are going to get."
Indeed, Savasta, a 33 year-old who has been working and skiing at Windham Mountain for 22 years, points out several advantages to shopping slopeside. He starts with expertise. "The people in our shop live here. We use the goods every day on the mountain. We know what works. And what doesn't work, we don't carry. If we stock it here, we know it keeps you warm and that it holds up."
Customers who encounter problems also benefit. "This is where you use the stuff," A.J. says emphatically. "If you have a problem with size or a warranty issue, we can take care of it right here, instead of losing whole day." If, the zipper sticks or fails on a jacket with a warranty, for example, a fix is a few steps away.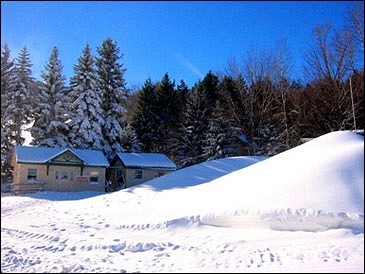 Windham's slopeside demo center
(Photo: Courtesy of Windham Mountain)
Savasta reminds buyers to take advantage of the available expertise. Customers shouldn't be afraid to ask questions. "With clothing in particular," he notes, "if you don't wear it properly, it doesn't work." He cites cuffed gloves as an example. "You have to make sure those gloves are cinched up the right way. Just ask us and we can show you how to do that," he says. "When it comes to clothing fit, ask for assistance to make sure of sizing. And, we can show you all the features that jackets, gloves or pants have."
Sometimes, improper use causes problems. Luckily, such issues are readily rectified. "People might come in and say their goggles aren't working, they're all fogged up. But, it's only because the vents on top are clogged," Savasta offers as an illustration. "We show them how to keep those clear." And, not coincidentally, save them from unnecessarily buying new ones.
With accessories, Savasta recommends comparing features. Some face masks, for example, cover the whole face and head, except the eyes; others more resemble a t-neck, covering neck and chin. A.J. recommends trying on all styles. When buying a face mask, he also comments, remember to bring along goggles, helmet and other headwear. Indeed, any purchase item worn on the head should be chosen relative to how well it fits with all other headwear.
"And," Savasta adds, "remember that garments and accessories don't have to be big and bulky. Many newer materials are thin and comfortable, and they're just as warm as anything else." That's especially true for the cutting edge micro-fleece which, Savasta indicates, is equally warm but thinner, more comfortable and wicks moisture. "Which reminds me," he says, "always look for moisture wicking – for fleece, long underwear, gloves, glove liners, face masks and even socks, too. It's important."
And, speaking of socks, "those are key," A.J. cautions. "Ski socks are different from regular socks – and even from snowboard socks." Ski and snowboard socks differ in their padding. But, A.J. notes, "The major misconception with socks is to double- or triple-layer athletic socks. One good quality ski or board sock is what does the job," he says.
Equipment buyers who demo skis or boards gain an excellent on-mountain advantage. "You want to test drive skis or boards these days; they cost a lot of money," Savasta says. "Our demo center allows you to try as many skis as you want in a single day or weekend. Bringing demos from an off-hill shop limits you to one for each visit." Demo skis or snowboards cost $30 per day, and up to two days' worth can be deducted from the purchase price. Customers can demo boots, too, another unique slopeside service. And, for those who want to save even more, demo skis and snowboards can be purchased on the spot for 20 percent off.
"I'm not sure why people think that it's more expensive to buy slopeside," Savasta concludes. "But, in fact, we get a lot of people here who come in and say our stock costs less than it does in the shops down home."