Top USA Slalom Skier to Display Lake Placid Brand in Olympic Season
LAKE PLACID, New York ??" Kristina Koznick, bidding for her third berth in the Winter Olympics, will represent the two-time Olympic village of Lake Placid this season. Koznick, a six-time World Cup slalom winner and five-time U.S. champion, will wear LAKE PLACID on her competitive and casual headwear.
The sponsorship, now in its third season, extends to virtually every tour stop during the 2005-06 season's World Cup technical ski races. Koznick will display the Lake Placid brand before and after the Torino Games. International Olympic Committee rules forbid such promotion during the Olympics.
Currently, after two World Cup starts in giant slalom and super giant slalom, the Eagan, Minn. native is preparing for this weekend's resumption in Aspen, Colo. Koznick will be among the ski racers to watch, and will look to score World Cup points in slalom and giant slalom.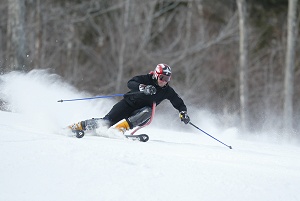 Kristina Koznick
(Photo: ORDA)
Koznick, a 15-year ski racing veteran, will work with the staffs of the Olympic Regional Development Authority (ORDA) and the New York Ski Educational Foundation (NYSEF). Training camps at Whiteface and promotional appearances in the Lake Placid area, in and out of skiing, will be included in this continuing relationship.
The Lake Placid / Essex County Visitors Bureau is also involved in this partnership.
"I'm happy to work once again with ORDA and Lake Placid," said Koznick via telephone from Aspen. "This makes it more personal and family-like. My goal would be to race good enough to put Lake Placid on the map even more than it already is."
To that end, Koznick senses that she is on schedule.
"I'm skiing and training really fast," she continued. "I feel that I'm skiing faster as I get older. But this weekend will tell a lot. Everyone is getting faster. They are all pushing the bar up and I feel like I'm in that group too."
Koznick, who turned 30 in late November, will bring impressive slalom credentials into the season. She has six World Cup victories in the discipline, 18 World Cup podium performances and five national slalom titles. "Koz" has also been named to five world championship teams and is a four-time winner of U.S. Skier of the Year.
"I know that slalom has been my specialty," she stated. "But my GS is coming along. So I hope by season's end I won't just be known as a slalom specialist."
Her top World Cup giant slalom effort was a fourth place performance on the glacier in Soelden, Austria in October 2004.
"This is a key branding initiative for Whiteface and Lake Placid, particularly in an Olympic season," said ORDA Interim President and CEO Jeffery Byrne. "The spotlight is much brighter on these athletes at this time. It's crucial for us to be carried to the national and international audiences through the performances of a world-class skier like Kristina."
It is anticipated that the ski veteran will appear on national and cable television throughout the winter season. NBC and the Outdoor Life Network will devote considerable winter programming to the alpine sport in the upcoming campaign leading to the Winter Games.
"We are very pleased to have Kristina interact, once again, with our athletes," said NYSEF Program Director Doug Williams. "Our kids respond well to her and it'll be a benefit for NYSEF programs to have her affiliated with us. It's not every program that can be associated with a World Cup skier. Kristina is honest and forthright and comes across very professionally."
A skier since the age of four, Koznick emerged from the famed Buck Hill program in Minnesota. After bursting on the scene at age 12 by winning Junior Olympic crowns in slalom, giant slalom and super giant slalom, she made her World Cup debut at the youthful age of 15 in 1991. Twice since then, in 1998 and 2002, Koznick has finished second in the overall World Cup slalom standings.
With World Cup competitions in five sports, join us in 2005-06 for the journey that will take athletes from Lake Placid to Torino.
For more information on ORDA venues and events, and for web cams from five locations, please log on to www.orda.org.