What's New at Cranmore This Winter
NORTH CONWAY, New Hampshire — What's new at one of the oldest operating ski areas in North America? With lots of new events, activities and the addition of new trails and glades, North Conway's venerable in-town ski resort will have plenty of surprises in store for skiers and riders visiting this winter.
New Trails & Glades
"One of the surprises to come out of last year's record-breaking snowfall was seeing so much potential in and around the mountain for new trails and glades," stated Cranmore General Manager, Ben Wilcox. "With all the snow, we could see where we could get in there and easily clear some trails for this winter. And that's just what we did with these three new trails."
Cranmore's trail network has expanded this year with the addition of several new trails and glades. Click for hi-res image.
Skiers and riders can look forward to exploring these new trails and glades this winter: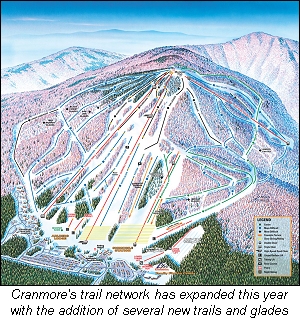 Oompah Flats – Unofficially opened last winter as "The North-South Trail," a connector between Artist Falls and the South Slope, Oompah Flats was named as part of a public "Name the Trail" competition won by Peter Skilton of Charlotte, NC. While Peter has not skied Cranmore in a while, he has kept up with the resort thanks to its weekly video snow report which featured the naming competition one week.
"I still miss my days of learning to ski on Cranmore and check in to the website often," he wrote in his winning entry. He added that he was an ESSC (Eastern Slopes Ski Club) student in the 1960s and had relatives that worked at Carroll Reed's in Jackson, NH. Peter earned a season pass for his efforts, which he has graciously offered to donate to a local family in need.
Roundabout- Take the Snow Train trail to Roundabout, a short but relatively steep "blue" trail accessed off the South Chair.
Tommy's Trail – Runs from the bottom of the East Slope parallel to Gibson, taking skiers to Beginner's Luck. A great way to ski the full length of the East Slope area trails without taking the East Chair back up to the summit.
Gibson Chutes – This natural skiing area has multiple entrances off of the Gibson Trail. Features three relatively-narrow trails that dovetail down to Tommy's Trail.
NEW EVENTS
Crantastic New Year's Eve (Wed. Dec 31, 2008)
This year Cranmore will host its first ever New Year's Eve Party, an all-ages night of skiing, riding, snow tubing, live music, family entertainment and more from 2pm until midnight. Features a family fireworks display at 7:30pm.

Snow Train Weekend (Fri. Jan. 9 – Sun. Jan. 11, 2009)
Join us in honoring Hannes Schneider's historic arrival in North Conway. The weekend will be filled with train rides on the Conway Scenic Railroad, skiing, food, live entertainment and music. Includes Ticket Roll Back Day on Fri. Jan. 9, with $3.30 lift tickets, what it cost to ski back in the 1930s!
Indoor Family Fun Zone
The new Fun Zone features this 65 foot inflatable obstacle course.
Click for hi-res image
The Cranmore Family Fitness Center now features an indoor "Fun Zone" with a giant inflatable bouncy house, 65-foot two-person obstacle course and other fun activities for all ages. Also offered will be dodge ball, floor hockey, pre-school nook with games and activities and more.
The Fun Zone will be open Saturday nights and holiday weeks throughout the winter season from 4:30-9pm with a special sneak preview on Fri. Nov. 28 and Sat. Nov. 29, 2008.
Improvements to Snowmaking and Grooming
Cranmore has refurbished 13 fan guns and is introducing two new SMI tower guns with on board compressors and a dedicated fan gun for terrain park snowmaking. "This investment in snowmaking and snow grooming technology, utilizing more energy-efficient resources, contributes to our continued effort to operate in an environmentally-friendly manner whenever possible," stated Cranmore GM Ben Wilcox.
For information about Cranmore, please call 1-800-SUN-N-SKI or visit www.cranmore.com.