Windham Mountain Makes Snow with Improved Snowmaking System
WINDHAM, NY ??" Windham Mountain began making snow in earnest on Sunday, November 7 with hopes of beating their target opening date of November 19. The upgraded snowmaking system was still running through early afternoon Monday.
"Our original target for opening day was November 19, but we have good temps through tomorrow night and we're looking at a Saturday opening as quite possible," said Windham Mountain Director of Marketing, Kirt Zimmer on Monday.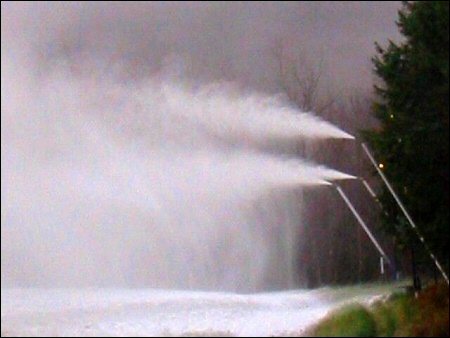 Windham Mountain Snowmaking – November 8, 2004
(Photo: Courtesy of Windham Mountain)
Windham has made significant improvements to its snowmaking system for the 2004-2005 season. Snowmaking has been extended to the scenic Lower Wipe Out trail with eighteen computer-automated HKD snowguns installed there. Twenty four new snowguns on the What's Next trail are also equipped with similar individual weather stations. They turn on and off automatically, and they make snow based on the temperature and humidity right at the guns. It is completely automated with no personnel involved after programming is complete.
"Guests get more snow more quickly, and a faster snow surface recovery time from poor weather," remarked Zimmer.
2,000 feet of snowmaking pipe has also been replaced on the Whistler and Wheelchair trails, along with more tower-mounted snow guns. These additions bring total snowmaking coverage at Windham Mountain to 98 percent.
For the latest updates on Windham Mountain's snowmaking progress visit www.windhammountain.com.