Winter Trips to "The Home of the World's Worst Weather"
MOUNT WASHINGTON, New Hampshire ??" With a weekend storm dropping more than 30 inches of snow on New Hampshire's Mount Washington – and hammering that mountain with winds higher than 130 miles per hour – staff at the Mount Washington Observatory, the mountain-top weather station, are suddenly in the midst of winter. With that season comes severe weather, a busy scientific research schedule, and a return of the Observatory's "EduTrips". "EduTrips" are winter educational trips which allow participants to spend a night at the Mount Washington weather station, to experience weather that some have called "the world's worst", and to learn more about the mountain environment.
Observatory Director of Programs Peter Crane admits that the "EduTrips" are not for everyone.
"It takes a special kind of person to be really enthusiastic about sub-zero cold, super-hurricane winds, and white-out conditions in fog and blinding snow," he states, "but if you're in good health and good physical condition, well prepared and equipped, and are keen about enjoying miserable conditions, this is a fascinating place to experience winter at its worst."
What sort of people participate in the EduTrips? Crane comments, "Considering the mix of EduTrippers over the more than dozen years the Observatory has operated the program, I'd say a common characteristic is people who love the outdoors, who are intrigued by the mountains and wish to better understand them, and who are ready, willing, and able to sample some of the most savage weather on the planet. These are folks who would enjoy a trip to the South Pole or Mount Everest, but who are looking for an adventure a little closer to home."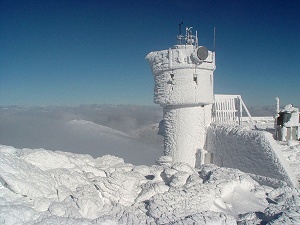 Early winter rime covers the
Mount Washington Observatory tower
(Photo: Mount Washington Observatory)
The Observatory's EduTrips run on many winter weekends, and on some midweek dates, from December into April. Besides including snow tractor transportation up and down the mountain, the trips feature meals and overnight lodging at the Observatory — normally for one night, but sometimes for two or three nights if extraordinarily severe weather, such as near-zero visibility in freezing fog and blowing snow, prevents snow tractor operation. The EduTrips also include an in-depth tour of the weather station, and, as a special highlight, each trip has classroom sessions in a particular topic pertinent to the mountain environment, such as mountain photography, the geological history of Mount Washington, or mountain weather. There are also trips designed to introduce visitors to the nature of life and work at the top of New England, and which focus on the unusual challenges which face the Observatory staffers as they go about their daily routines.
According to Crane, the instructional sessions of the EduTrips typically mix indoor classroom time with time spent outdoors in Mount Washington's often harsh natural classroom. "It's one thing to read about or hear about the mountain's extreme conditions; it's quite another thing to experience them in the flesh," he notes.
The Observatory is a private, non-profit, membership supported organization which has kept year-round watch on Mount Washington's infamous weather since 1932. For more details about the Observatory's EduTrips, including schedule, application, and fee information, contact the Observatory at 1-800-706-0432 x 203. EduTrip and other Observatory information is also available at www.mountwashington.org.