With Little Natural Snowfall, Mount Snow's Powerful Snowmaking System Flexes Muscles
West Dover, VT (December 20, 2011) – Despite a lack of natural snowfall in the Green Mountains of Vermont, Mount Snow has been opening more skiable terrain on a daily basis thanks to the most powerful snowmaking system in the State which includes 253 high output/high efficiency fan guns; the most of any resort in North America. With this advanced technology and an upgraded pumping system, the popular mountain resort is able to produce 2.6 acre feet (coverage of 12″ of snow per acre of land) or 111,700 cubic feet of snow per hour at maximum capacity, which the system has been running at since temperatures dropped last Friday night.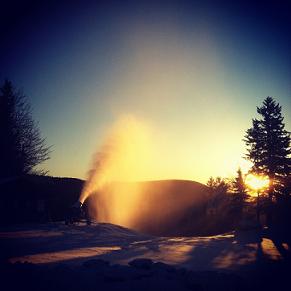 On Friday, December 16 Mount Snow opened with 55.1 acres of skiable terrain on two of its four mountain faces and by Tuesday, December 20 it will have doubled that amount by opening with 110 acres of skiable terrain across three mountain faces. Overnight from Monday, December 19 through the morning of Tuesday the twentieth they had snow guns covering more than 150 acres of the resort, which includes resurfacing already open trails as well as expanding to trails with anticipated openings later in the week. In addition to the many fan guns, Mount Snow boasts almost 800 air/water guns bringing the total arsenal that covers 80% of the developed trails in manmade snow to more than 1,000 snow guns.
Other statistics of note:
A traditional air/water snow gun can turn 72 gallons of water per minute into snow at full capacity in temps between 10-16 degrees.
Mount Snow's high output/high efficiency fan guns can turn 126 gallons of water per minute into snow at the same temps.
Since installing the fan guns across the resort, Mount Snow uses an average of 200,000 less gallons of diesel fuel every winter.
Using 150,000 gallons/acre feet of snow as the conversion factor, Mount Snow's snowmaking system can fill an Olympic-sized swimming pool with snow in just 47 minutes and 17 seconds, put 18′ of snow on the field at Fenway Park in just 20.9 hours and overflow the Green Monster which stands at 37′ in just 43.1 hours.
Shopping season? Mount Snow's snowmaking system can put a foot of snow down in the entire Short Hills Mall in New Jersey (1,340,000sqft) in just 12 hours.