Attitash Kicks off Bud Light Concert Series
BARTLETT, New Hampshire ??" With a double dose of funk, Five Day 40 packed the Grand Summit Ballroom of the Attitash Grand Summit Resort Hotel on Wednesday night, Jan. 26 kicking off both the Bud Light Concert Series and the 40 Days and 40 Nights of Attitash. Over 500 people filed in to hear and cheer as the local band put on its first show since parting ways in 2003.
"It went better than I could have hoped," said Eric Fredrickson, Attitash merchandising manager and Five Day 40 visionary. "The event really caught fire as the big night approached. All our ticket outlets sold out and we ended up with a crowd over 500."
Five Day 40 took the stage to a sold out Grand Summit Ballroom on the exact date that Attitash opened to the public 40 years ago.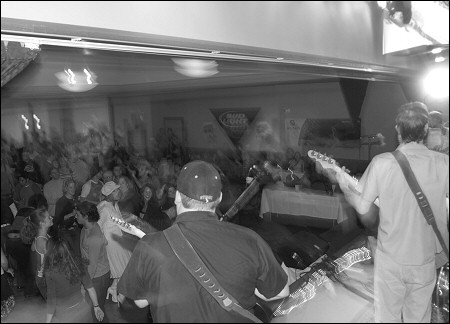 Five Day 40 performs at Attitash
(Photo: Courtesy of Attitash)
Six dates remain within Attitash's Bud Light Concert Series including reggae, jazz, and rock genres as well as cover bands. On Saturday, Feb. 26 Aerosmith cover band Draw The Line will rock Ptarmigan's Pub with an uncanny similarity to Steven Tyler and Joe Perry. This year's musical accompaniment to the All Star Aerial Show on March 5 will be provided by Fast Times, an 80's cover band that plays it all from Adam Ant to ZZ Top.
"Fast Times will be a real crowd pleaser," said Heidi Loecher-Duffy, events coordinator for Attitash. "Whether the tunes are outside on the snow stage or upstairs at Ptarmigan's Pub, Attitash is a great place to catch some live music."
Attitash has events, deals and entertainment every day through March 6 as part of the 40 Days and 40 Nights of Attitash in commemoration of the resort's 40th Anniversary. A complete schedule of events is available at www.attitash.com/40.