Attitash to Host 1st Annual Spread Eagle World Championship
BARTLETT, New Hampshire ??" There's a huge jump, competitors chomping at the bit and a crowd cheering for the action to get underway. What's different? Tricks that include a grab or off-axis spin will not be rewarded. On Sunday, Feb. 27 Attitash is calling out the straight skis, day-glow and one-piece suits for a display of old school airs and outerwear.
"Sure we've got a huge terrain park and Superpipe with skiers and riders pulling insane airs," said Alex Kaufman, old-school aficionado and communications manager at Attitash. "I think a lot of people have forgotten how good it can feel to unleash a really big spread eagle or double daffy, some might even be embarrassed. Well for one day, it's going to be cool to be old school."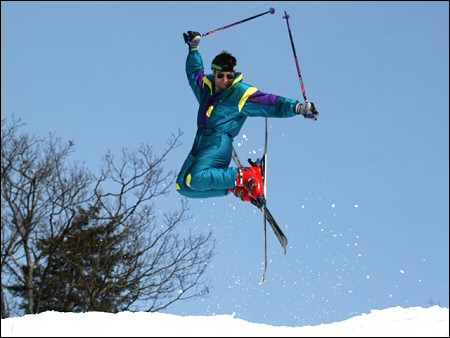 Alex Kaufman goes old school
(Photo: Courtesy of Attitash)
Competitors will be judged on amplitude, enthusiasm (old school tricks have often been accompanied by exuberant facial expressions), trick variety and outfit. Registration is free and will occur from 10 a.m. to noon on the day of the event. Competitors will have one hour to session the jump displaying an array of old school trickery.
One male and one female will be selected to have their name engraved on the World Championship plaque, which will rest in the Attitash Base Lodge for all to see. For many skiers, this is their one chance to be World Champion as the spread eagle is the basis from which all other tricks are learned.
Freestyle skiing traces its roots back to Attitash. The resort was host to the world's first freestyle skiing competition in 1966 when the Peter Pinkham's Skimasters event was held.
The date of the event is the final day of Winterfest 2005, which features eight straight days of events and entertainment centered about the Presidents holiday week.
A complete listing of Winterfest 2005 events is available at www.attitash.com. This edition of Winterfest is occurring with the 40 Days and 40 Nights of Attitash, which culminate on the weekend of March 5-6 with the highflying stunts and fireworks of the All Star Aerial Show.