Belleayre Ski School Director Honored by Professional Ski Instructors of America-East
HIGHMONT, NY ??" Belleayre Mountain Ski School Director, Sue Spencer-Moses, has been awarded the Professional Ski Instructors of America – Eastern Division Life Membership Award in recognition of 26 years as an Examiner.
Sue's passion for sports began with a degree in Physical Education received from Syracuse University. To help with college expenses, she taught skiing at nearby Drumlin's Ski School. After graduation, Sue worked in the public school system in Rome, NY and continued teaching skiing on weekends at Snow Ridge in Turin, NY. Of the 35 instructors at Snow Ridge, 33 were PSIA certified, thus beginning her long association with the organization.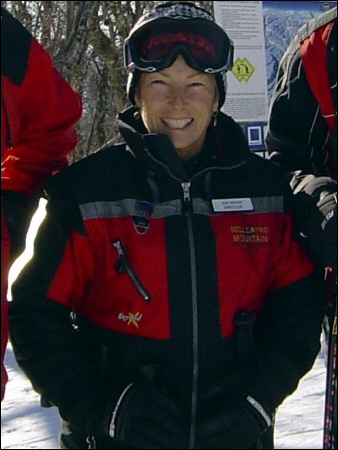 Belleayre Mountain Ski School Director, Sue Spencer-Moses
(Photo: Courtesy of Belleayre Mountain)
In 1975 Sue passed her first Examiner Training Squad Exam and spent 3.5 years training as an apprentice. In 1978 she was elevated by merit to the Board of Examiners in which she is presently still active. The Board of Examiners conducts over 400 education and certification events and exams throughout the year.
Other PSIA achievements and contributions include five years on PSIA National Steering Committee, full-time Director of Education and Programs for PSIA-E, and 2.5 years as Executive Director of PSIA-E. The PSIA-E is one of nine divisions of the national PSIA group but with 11,400 members, it represents nearly half of the total membership. In addition to her snowsports achievements, Spencer-Moses is an accomplished athlete in women's water skiing and squash being nationally ranked in both. Leisure hours are spent windsurfing. Sue Spencer-Moses joined the Belleayre staff as Technical Director in 2002-03 and as Ski School Director from 2003-05 to the present. Her attraction to Belleayre "was the people already there, [Superintendent] Tony Lanza, [Assistant Superintendent] Tom Tar, Paula Tar and a wonderful training staff. Belleayre to me is a feel-good place; a place where I go to work and feel excited about going there; as if I'm a member of a family that works and plays together."
For further information contact Belleayre Mountain Ski School at 845.254.5600, x304.