Boosting the Mount Washington Valley Terrain Park Scene at Attitash
BARTLETT, New Hampshire ??" Excavation might sound like unappealing work, but it can also be a labor of love, especially when it's being done by Attitash's HPG pipe groomer that will be in action to prepare the Superpipe for an opening during the week of Monday, Jan. 17. The Mount Washington Valley, typically known for its quaint atmosphere, stunning views and tax-free shopping is just days away from being big air central as Attitash uncorks a freeriding frenzy.
"You want it, we got it," said Greg Keeler, freeride team coordinator for Attitash. "From sculpted landings on Thad's to buttery smooth transitions in the Superpipe and a kicking event series, Attitash is prepared for take off. The success of our freeride team is a testament to the quality of our air-oriented elements."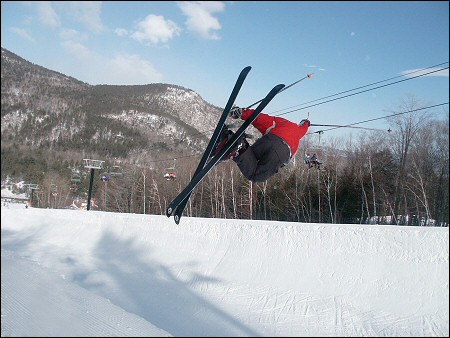 Freeride Skier in Attitash's Superpipe
(Photo: Courtesy of Attitash)
The Attitash Freeride Team is a select group of skiers and riders that call Attitash home while traveling the world to get their winter fix. Attitash Skier and team member Richie Paradise has been featured in numerous ski magazines including Freeskier and Freeze.
Features of note to freeriders include an in-ground Superpipe that has a built in drainage system allowing for it to keep its shape longer in the spring and also withstand eastern weather hiccups. The Superpipe is located beneath two chairlifts making it easy to see and be seen.
"That pipe is wicked," said Paradise. "There're always some peeps watching the action from the chair which gives it a really good vibe."
Thad's Choice is home to Attitash's signature terrain park, which is the largest in the Mount Washington Valley. It is accessed by four lifts including a high-speed quad making it easy for park players to lap it repeatedly. An ever-changing array of features is present at any given time including but not limited to, tabletops, rails, boxes, step-downs, step-ups, hips and more.
Kicking off Jan. 29 is a three part event series including a slopestyle, ridercross/skiercross and pipe jam that offers prizes including equipment from Atomic and bragging rights to the winners. Helmets are required to participate.
Updates on park and pipe happenings as well as recent photography is available at the park and pipe section of Attitash.com.