Bromley Building Aerial Adventure Park
New Aerial Adventure Park is scheduled to be completed in July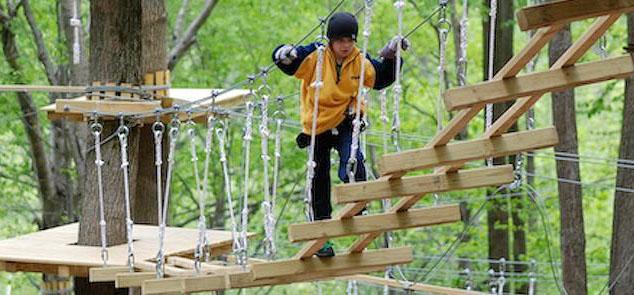 Challenge yourself to new heights, literally! Combining elements of a zip line, canopy tour and challenge course, this will be the latest aerial adventure park in Vermont. As you work your way through the canopy, from platform to platform and tree to tree, over bridges of rope, wood and wire, you'll be safe in your harness, exploring a whole new side of Bromley with a squirrel's eye view. Bromley will have courses for all skill and age levels.
The Aerial Adventure Park will offer family fun for ages 7 and up.
This is what Bromley is planning – 5 different course levels, in the trees. Each course has zip lines but primarily consist of "bridges" between tree platforms made of rope, cable and wood configurations creating countless unique challenges. Bromley provides a harness and safety equipment, as well as training that will enable you to climb & zip around the park! Trained Adventure Park staff members monitor the Park and are able to assist if needed. Build skills, get exercise, and enjoy nature.
The Aerial Adventure Park is scheduled to begin construction soon, and completed in July.
For more information, please visit http://summer.bromley.com/attractions/aerial/