Christof Innerhofer extends his adventure with Rossignol
Christof Innerhofer
Age 27 (DOB 12/17/1984)
Club: Gr. Sciatori Fiamme Gialle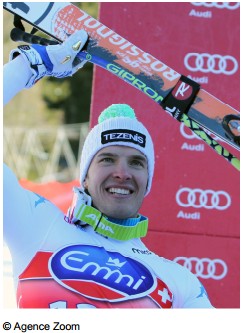 Honors
-2011 World Championships:
-Super G World Champion
-Super Combined Silver Medalist
-Downhill Bronze Medalist
-6 World Cup podiums, including 2 wins:
1st in Downhill, Bormio 2008
1st in Super Combined, Bansko 2011
2nd place in Super Combined, 2011 World Cup
Christof Innerhofer has been attached to Rossignol since his early days and has decided to extend his association with the company until 2014.
With three medals at the Garmisch-Partenkirchen World Championships in 2011, the Italian has truly reached the summit.
The extension shows his desire to maintain his place at the highest level with Rossignol.
Christof Innerhofer: "I really feel like I am part of a big family with Rossignol, I get on really well with everybody. What I really appreciate is that the company believes in me and puts its faith in me whatever happens, giving me the best possible material. I am also counting on the end of this season to show that I can do great things."
With an eye on the next Worlds in 2013 in Schladming and the 2014 Olympic Games in Sochi, Rossignol Group is delighted that Christof Innerhofer has once again committed himself to the company, and wishes him all the best for the coming years.